Featured Corvette! 1953 Kindigit Designs CF1 Roadster
Corvette Mike is the place for quality, classic, used Corvettes and classic muscle cars!  From the classic 1953 Vette— right up to today's streamlined models — Corvette Mike has a showroom full of Corvettes for you to choose from. You name the era, you can bet Corvette Mike has a Corvette for you.  Looking for a classic or collector car? Check out our Classic Cars for Sale. And if we don't have it, Mike will find it!
Corvette Mike also purchases Corvettes, classic cars and car collections.  Let us know what you've got! CORVETTES WANTED!
Fluid Changes • State of the Art Alignment System • Differential & Transmission Service
Proper maintenance is key in maintaining the life of your Corvette. Regularly scheduled routine maintenance will help to ensure the longevity of your Corvette investment.
Our Corvette technicians have the expertise and training to keep your Corvette in tip-top shape, and all at competitive prices.
Featured Corvettes and Classic Cars for Sale
Corvette Mike is the oldest and largest Southern California Corvette facility. Our factory-trained technicians have over 125 years of combined experience servicing Corvettes as well as classic muscle cars. We are also highly trained restoration specialists. Whether your car is a classic 1953 or the newest year model, there is simply no better place to take your Corvette or vintage car than Corvette Mike.

Corvette Mike has been restoring Corvettes for over 25 years with more Bloomington Gold and Top Flight awards than we can list. Trust the experts at Corvette Mike for the renovation of your American classic car.
Let our nationally recognized Corvette Service department keep your Corvette in top condition. Whether you need a minor tune-up or extensive repair, the job will be done right. Guaranteed!
Corvette Mike has a unique collection of Corvette lithographs and prints that any Corvette collector is sure to love.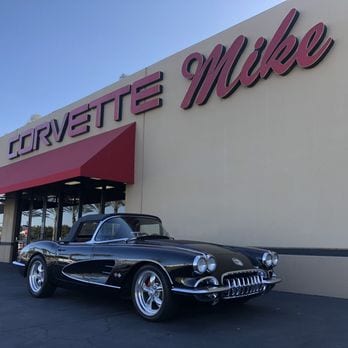 My dream car is ready. I can't believe it looks and drives this amazing… Great Job. Mike thank you for your hands on expertise, making sure the build came out just right.
~Tim J.
I met Mike today. He's an awesome guy with loads of experience and knowledge. Great experience!
~Keith R.
I purchased a 57′ that Corvette Mikes put up for auction. I would feel comfortable buying from them again. It's refreshing to be treated well.
~Raymond D.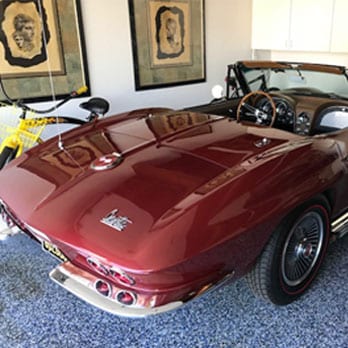 My day was great! My '67 arrived and it is spectacular.
Stunning. Thanks Marine.
~David M "Corvette Blogger"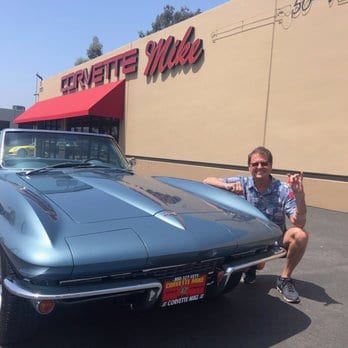 I stopped by Corvette Mike's and ran into Mike himself, who was more than happy to show me around. Truly a car-lover's dream experience. I came back and purchased the '67 that I fell in love with.
~James S.
Quality

Used Corvettes and Classic Cars

for Sale at Corvette Mike.

Corvette Mike has been a leading used Corvette and classic car dealership for over thirty years. Corvette Mike Vietro is one of the nation's most quoted Corvette authorities and is a much sought-after speaker. He has been featured in more than 20 magazines and newspaper articles, including Road & Track, Autoweek, Motor Trend, Primedia's Vette and Corvette Fever, as well as several Corvette videos, such as Speedvision's Classics network and Meguire's broadcast network. He has been on television, radio and in print interviews for over 20 years. Every June in Bloomington, Illinois, Mike Vietro instructs the advanced "How to buy a Corvette" and he sits on the "Future of Hobby" panel. Visit our Online Showroom to view our current inventory of Corvettes and Classic Cars.
About Corvette Mike Vietro
Mike fell in love with Corvettes as a teenager while pumping gas in the Boston suburb of Everett, Massachusetts and knew someday he would be heavily involved with them. He also felt a great desire to serve the country he loved, so in 1976 he enlisted in the Marines. After retiring from the Marines in 1980 as a Staff Sargent E6, he settled in Southern California to start the next phase of his life. Mike remains very proud of his Boston hometown roots. Visit his web site Born and Bred Bad in Boston for a unique look into his personal life.
Corvette Mike is headquartered in Anaheim, California, just outside of Los Angeles in the Southern California area of Orange County, but we sell used Vettes and classic cars to clients all over the world. Visit our Used Corvette and Classic Car Sales Showroom today! Corvette Mike is your leading source for used Corvettes for Sale.