Corvette Upgrades Make Your 'Vette Like New
Accessories, Performance, Interior – We've Got You Covered!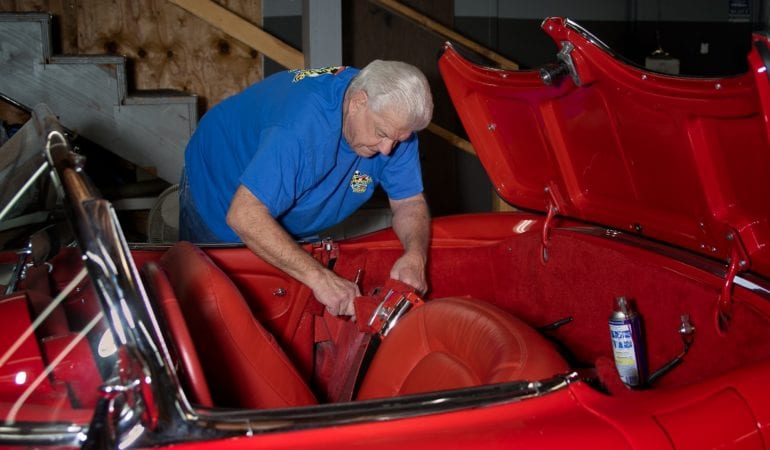 Give your Vintage Corvette that new car feel! There are many enhancements to consider, from a simple accessory, a performance upgrade or a new interior that comes with that new car smell of leather!
Side pipes '63-'67
This is a very popular upgrade – everyone loves the look, sound and feel of side pipes! The slick look along with the deep, throaty rumble will make you burrow in your seat with happiness.
Power steering '55-'72
Consider adding power steering to your Corvette and make your car much more enjoyable to drive. U-turns and tight parking spots are a breeze! We can use factory parts on '63-'72 Corvettes so your car looks and performs like original equipment.
Power brakes '55-'72
Power brakes add not only enjoyment to your drive, but safety as well by shortening the stopping distance. An easy way to have power and confidence right at your feet!
Tilt wheel '63-'72
Add a tilt wheel to your Corvette to really make your riding experience much more comfortable. The early Corvettes have large steering wheels that don't leave much room for the driver. A tilt wheel gives you options to suit your driving style while giving you more room and comfort.
Front disc brakes '55-'64
The drum brakes on the early Corvettes don't operate at an optimal performance level and are prone to pling and leaking. Replacing the old brakes with front disc brakes will not only make your Corvette stop smoother and better, they can also give you a safer ride.
Air conditioning '55-'76
Well who wouldn't want this upgrade? There's no better accessory to enhance the enjoyment of your Corvette than air conditioning! When you think about it, when do you most feel like cruising in your Corvette? Summertime, of course! Aaahh, just think of the cool, refreshing feeling you will enjoy with an aftermarket A/C system that works far better than the original and looks great too.
Dual master cylinder conversion '55-'65
Older model Corvettes use a single piston in the master cylinder. With only the one piston, any failure in the brake system may cause you to lose your brakes altogether. Upgrade your Corvette to a dual piston master cylinder and improve the safety of your vehicle. All cars were built dual systems starting in 1966 for this very reason. The dual system prevents the loss of the entire brake system because it uses a different piston for each the front and the rear brakes. This is a superior upgrade in terms of safety.
For questions regarding Corvette Enhancements and Performance Upgrades please email us at service@Corvettemike.com or call us at 714-630-1515.