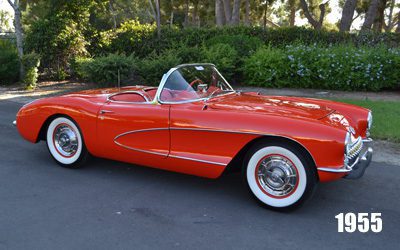 The 1955 model year brought about a few major changes to the Corvette. However, Chevy was not all that confident that the Corvette brand would fly, as it were, given that only 700 examples were built.
The outside of the '55s remained basically unchanged, but Chevrolet added a V8 option and 3-speed manual transmission. In fact, there were only seven cars produced with the six cylinder engine. The other 693 '55 roadsters were powered by a 265 cube, 195 hp V8, which produced sufficient torque to improve performance significantly. And, though records are unclear, about 75 '55s were built with three-speed manual transmissions, as they became available mid-production run.
Optional paint finishes numbered five: Polo White; Pennant Blue, Corvette Copper; Gypsy Red and Harvest Gold. Other 'options' were mostly required, and were the same as in previous years, as was the base price ($2,774).
Correcting a key weakness in the initial design, a 6-volt electrical system, V8-powered '55 Vettes, and all subsequent Corvettes, were and are wired with a 12 volt system, greatly improving reliability and drivability. The '55 model is a bridge between designs, as the V8 and 12 volt upgrades pointed toward the Corvette brand's Golden Age. A '55 could cruise easily at high speeds on the rapidly expanding interstate highway grid. The car's handling was by no means sporty, nor were the drum brakes world class. Still, the '53, '54 and '55 models were—and are–things of curvaceous beauty, garnering just enough attention from the motoring press and public to convince Chevrolet executives to carry on with the Corvette brand.
1955 Chevrolet Corvettes for Sale at Corvette Mike's