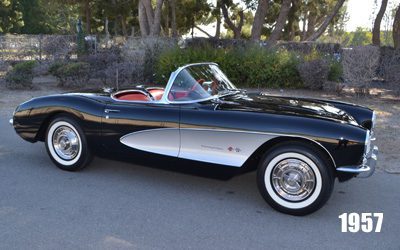 At last, in 1957, the Chevrolet Corvette truly came into its own. Base-priced at $3,176.32, the sexy body was basically unchanged from the '56 model, while the addition of optional fuel-injection and, late in the production run, four-speed stick on the floor completed the build of a proper sports car that could be readily tricked out for effective race track use. GM had learned from its European counterparts that success on the track translated into sales in showrooms. The dealer's motto became "Win on Sunday, sell on Monday."
Chevrolet increased production dramatically, to 6,339 cars, most of which are still zooming about today. Facing no direct domestic market segment competition then and to a lesser degree even today, the Corvette built on its foundation to establish a market niche GM came to count on for strong sales that burnished the reputation of both Chevy and its parent, General Motors.
Now committed to Corvette's growth, a bigger 283 cube V8 engine came in six configurations: base 220 hp 1×4 carb; 245 hp 2×4 carbs; 250 hp fuel injected; 270 hp 2×4 carbs; 283 hp fuel injected; and for racing, option package 579D, 283 hp fuel-injected with an airbox intake with steering column mounted tachometer. Other options, in addition to the usual heater, AM radio, Powerglide, etc., included three performance rear axles: 3.70, 4.11 and 4.56, gearings for dragstrips and tight race courses that were scattered coast to coast. Vette color schemes were as in '56, with the addition of Inca Silver/beige-red interior/black-white soft top and silver wheels. For the hard-core Corvette enthusiast, option RPO 684 comprised a package of racing suspension, quicker steering, metallic brakes, front and rear brakes ducting and Positraction. Relatedly, RPO 276 designated wider wheels, notable in the pre-radial tires era when cars slid over racing surfaces as often as they tracked a line over them. Chevrolet had produced a winner in 1957, which encouraged more bold designs to come.
1957 Chevrolet Corvettes for Sale at Corvette Mike's
1957 Venetian Red Corvette F.I. Convertible
| | |
| --- | --- |
| Body Style: | Convertible |
| Exterior Color: | Venetian Red |
| Interior Color: | Beige |
| Transmission: | 4-Speed Manual |
| Stock Number: | 6638 |
| | |
| --- | --- |
| VIN Number: | E57S105832 |
| Drivetrain: | RWD |
| Engine: | 283/283hp F.I. |
| Location: | Coming in |
1957 Pearl White/Blue Corvette SS Styling Car
| | |
| --- | --- |
| Body Style: | Convertible |
| Exterior Color: | White |
| Interior Color: | Blue |
| Transmission: | 4-Speed Manual |
| Stock Number: | NA |
| | |
| --- | --- |
| VIN Number: | E57S0001589 |
| Drivetrain: | RWD |
| Engine: | 283/283hp F.I. |
| Location: | Off Site |