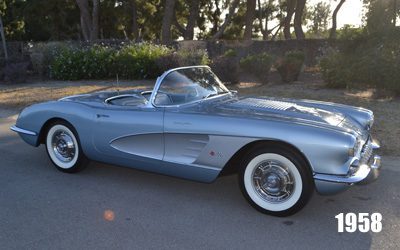 In the late '50s, America's consumer tastes took a bit of a gaudy turn. General Motors responded in kind with huge Cadillacs, while for the 1958 model year, Chevrolet offered a redesigned convertible that featured new body panels, hood louvers, dual headlights, heavily chromed grill and bumpers, reconfigured dash and gauges, silver wheels and parallel chrome 'spears' that conformed to the trunk curvature.
This one-year only accent made the '58 the flashiest of the first generation Corvettes. The reliable 283 cube overhead valve V8 continued to dwell under '58 Vette hoods, with a 230 hp 1×4 carb unit as the base motor. Optional engines were 245 hp 2×4, 250 hp fuel-injected, 270 hp 2×4 and 290 hp fuel-injected. With a 3-speed on the floor as standard equipment, options were a 4-speed manual or Powerglide 2-speed auto transmission.
Addressing safety concerns, 1958 Vettes were factory equipped with seat belts for the first time. Chevy, by then, committed to the Corvette brand with 9,168 convertibles built, expanded the number of available paint, interior and soft top colors palette to include: Body colors: Charcoal, Snowcrest White, Silver Blue, Regal Turquoise, Panama Yellow, Signet Red, Tuxedo Black and Inca Silver; Interior colors: Blue-Gray, Charcoal and Red; Soft Top: Black, White and Blue-Gr. Other options included: heater; AM radio; parking brake alarm; courtesy light; windshield washers; 5 ½ inch wheels; whitewall tires; auxiliary hard top; power windows; two-tone paint (coves); power folding top; 3.70 posi axle; 4.11 posi axle; 4.56 posi axle; heavy duty brakes and suspension. Only 144 cars were equipped with the racing HD brakes and suspension set-up. These cars are highly prized today.
1958 Chevrolet Corvettes for Sale at Corvette Mike's