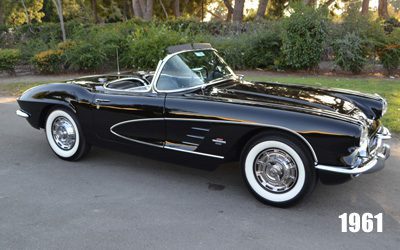 By 1961, the Chevrolet Corvette brand was firmly ensconced in the minds of Americans as the only choice among domestic car offerings if one wanted to race on the weekends while scoffing at speed limits during the work week. With 10,939 examples produced, the Vette's bold lines were reformed somewhat for the '61 model year, with a screen-type grill (no more chrome 'teeth') and flatter, boat-tail rear end. The overall appeal is softer somehow, perhaps because of reduced chrome effects, and despite the rear end coming to a blunt point.
The Interior was expanded to accommodate a population that was growing taller, on average. Under the hood, aluminum radiators were phased in over the production year. Some of the 283 cube V8 set-ups received horsepower boosts. The base 1×4 carb motor still produced 230 hp, while optionally, there were four choices: 245 hp 2×4; 270 hp 2×4; 275 hp FI; 315 hp FI. Transmissions were 3-speed manual standard, with 4 speed manual and 2-speed Powerglide auto as options.
Becoming standard equipment were courtesy light, sun shields, windshield washers, temperature controlled radiator fan and parking brake warning light. Other options were as in '60. Perhaps inspired by the '60 model's LeMans class victory, 233 '61 Vettes were optioned with the racing brakes and suspension package. Available body colors were: Tuxedo Black paint, Ermine White, Roman Red, Sateen Silver, Jewel Blue, Fawn Beige and Fawn Beige. Interior colors were: Black, Blue, Red, and Fawn. Soft Tops were either Black or White.
A '61 Corvette driven by Delmo Johnson and Dave Morgan won their class at the 12 Hours of Sebring, the major long-distance race in the US at that time.
1961 Chevrolet Corvettes for Sale at Corvette Mike's