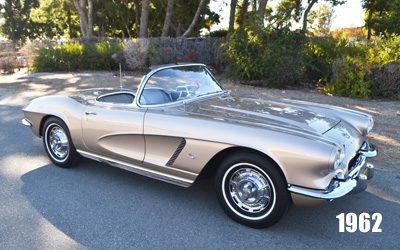 The last of the first generation Corvette series went out with a bang, specifically a bigger bang under the hood and a big bump in production to 14,531 examples. The 283 cube V8 was bored and stroked to 327 cubic inches. Consequently, the '62 Corvette 1×4 carb base motor produced 250 hp. Options were a 1×4 carb 300 hp; 1×4 carb 340 hp and FI 360 hp, which could propel the car to 140 mph. Valve covers were painted for the first time.
Transmissions were as before: 3-speed on the floor standard; 4-speed manual; 2-speed Powerglide auto. The exterior of the '62 Vette maintained most of the '61's styling cues, although there was no option for contrasting coves due to altered construction of side and door panels. Grills were anodized in either black or gold. The color palette was as in '61, although Almond Beige replaced the Fawn Beige option of '61.
Race-oriented buyers who ordered the HD brakes and suspension package numbered 246. Racing highlights included another 12 Hours of Sebring class win, in a '62 Vette driven by Duncan Black and R.J. Wyllie.
1962 Chevrolet Corvettes for Sale at Corvette Mike's