Happy Thanksgiving
Year End Special
Free shipping on any car purchased through the end of the year!
* Shipping to a USA address only.
---
If you are on the hunt for a
Black 70th Anniversary Convertible,
We know of one available for sale!
---
Kindigit Designs of Bitchin Rides and Corvette Mike have collaborated to bring you the Koolest of Bitchin Rides — a series dedicated to the ultimate resto-mods. The last of a true breed of combustion engines purpose-built by Lingenfelter, developing enough horsepower to rip the steel cords right off these Michelins.
This combination of a very limited, select edition of carbon fiber bodies mated to Roadster Shop chassis culminated into something very special. The first, from scratch, retro look 1953 Corvette Roadster with all the trick goodies of modern-day Sportage transportation with a flare to dare you not to stare.
This CF1 is already SOLD, though you can custom build
and reserve yours today! Talk to us, baby!!
Call 714-630-0700 or email: Troy@CorvetteMike.Com
---
We sell the best and service the rest!
Are you ready to purchase your dream car?
Thinking about selling your car or car collection?
Give us a call (714-630-0700) or email!

2008 Diamond Black Bentley GTC
Saddle interior, 6.0L/552hp W12, 6-speed automatic
Only 22k miles
$79,900

1962 327/340hp, 4-speed
Very sharp So. CA. Corvette
Hardtop only.
$69,900

1967 L71 427/435
Awesome color combo!
Completely restored!
$129,900

1967 L71 427/435
Rare factory side exhaust
frame-off restored, Bloomington Gold
$299,000
1969 L89 427/435hp, 4-speed
Certified original engine!
Factory side exhaust
$325,000

1969 L89 427/435
Certified original engine by C.C.A.S.
highly documented and with partial Tank Sticker $175,000

2003 50TH Anniversary
Like new with only 3200 miles!
Rare 6-speed manual transmission
$42,900

2010 Callaway SC606 Grand Sport
Only 11k miles!
$62,900

2014 Night Race Blue/Jet Black
Only 39k miles!
$45,000

2023 Z51 70TH Anniversary Convertible
New and loaded with options!
Only 329 miles.
$115,000

2023 70TH Anniversary Convertible
Brand New with only 8 miles!
Loaded and very hard to find!
$139,900

1968 Plymouth GTX Hardtop
440/375hp Super Commando V8
4-speed manual transmission
$124,900

1978 Toyota FJ-40 Land Cruiser
Highly sought-after!
$39,900

1983 Porsche 928 S
Rare color, extensive service records
$29,900

2004 Jaguar XJR Sedan
Pristine condition throughout!
$23,900

2017 Porsche Carrera S Convertible
Beautiful example with low miles
$129,900

2014 Long Wheel Base Range Rover
Black with Ebony interior
$59,900
2017 Land Rover Discovery HSE Luxury
Meticulously maintained with history
$42,900
2018 Range Rover Sport HSE Dynamic
Loaded with low miles
$79,900

2020 Porsche Cayenne Turbo
Quartzite Gray Metallic
Bordeaux Red interior
$129,900

2023 Cadillac Escalade ESV
Fully loaded and with only 6 miles!
6.2L V8, 4WD 10-speed automatic
$117,500
2023 Land Rover Defender 110
High desirable and loaded with options!
Fuji White with Acorn interior
$CALL

1974 Vintage Honda and Yamaha motorcycle collection!
Available as a set of 7 Motorcycles or separately. Call for more details.
---
SOld FOr $550,000!
This could be your car next!
No one gets more money for your premium classic cars
than Corvette Mike!
---
Win a 2023 Corvette Z06 Coupe with the
70th Anniversary Package!
The Pittsburgh Vintage Grand Prix Association is a 501(c)(3) non-profit that annually raises money for autistic and IDD charities. The organization just secured a 2023 Corvette Z06 70th Anniversary Coupe through Pittsburgh's North Star Chevrolet, which they will give away to one lucky ticket holder in August 2023. The 70th Anniversary Coupe is outfitted in Carbon Flash Black Metallic Paint with Satin Black Metallic Stripes, Satin Graphite Wheels with a Red Stripe, and 70th Anniversary badging. Also included is the Z07 Performance Package with carbon ceramic brakes, Michelin Cup 2R tires, and Magnetic Selective Ride Control.
Subscribers to Thundering Thursday can get 30% Bonus Entries with ticket packages starting at $25 by Clicking Here!
---
1967 Black 435 Wanted!
If you have a Black L71 427/435, we have Cash!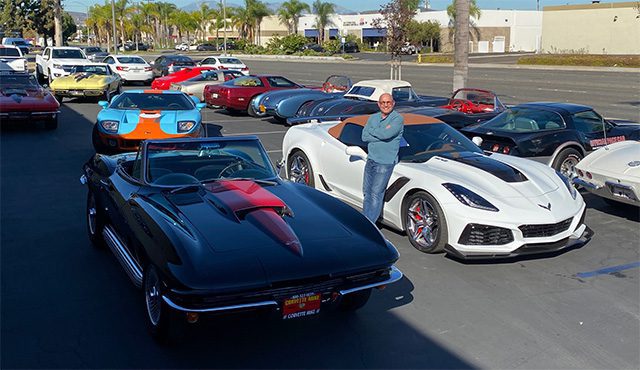 Email me to talk about any cars you want to sell: Troy@CorvetteMike.Com!