Briggs Cunningham 1960 Corvette Le Mans Racers
Photo Credits: Steve Garrett / Corvette Today Podcast
For the first time since the 1960 24 Hours of Le Mans, the three Briggs Cunningham Corvette racecars that competed in that race were reunited at the 2023 Amelia Concours d'Elegance on Amelia Island.
The backstory on the three Le Mans racers has been told many times, and we highly recommend watching "The Quest" documentary by Michael Brown which focused on the No.3 Corvette which won the class and finished 8th overall, if you can find a copy.
The short story is that businessman and gentleman racer Briggs Cunningham tried unsuccessfully at winning the 24 Hours of Le Mans in the 50s and so he turned to Zora Arkus-Duntov for help. With Zora's help, three identically prepared Corvettes with 283-fuelie V8s were purchased by Cunningham and further prepped for racing at Le Mans. Zora's original plan was to drive one of the cars, however, his boss Ed Cole nixed it due to the AMA ban on racing as well as the fact that Zora was simply too valuable to the brand at that point.
In the opening hours of the race, the three Corvette racers were doing well against their European counterparts in the GT 5.0 Class, but rain started falling in the afternoon when disaster struck for the No. 1 Corvette. As the rain opened up, the No.1 car entered the pits and refueled with Bill Kimberly taking over for Briggs Cunningham. Still on regular tires, Kimberly lost control at the Maison Blanche corner, spinning, and flipping over before coming to rest wheels down. Kimberly was able to escape as the engine caught fire, dashing the hopes of the No.1 Corvette after 32 laps. The No.2 Corvette would make it to lap 207 before it would retire due to engine failure, but the No.3 Corvette turned out to be the champ, and it would finish first in class and 8th overall.
Following the race, the three Corvettes were returned to the States where they were restored back to street trim and then resold as used cars.
You can read more on Corvette Mbloggers website by Clicking Here.
---
Win a Carbon Flash Black 70th Anniversary 2023 Corvette Z06 with Z07!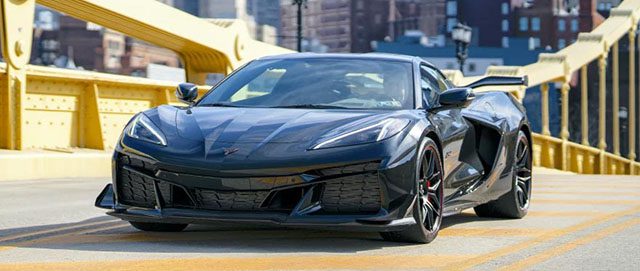 The Pittsburgh Vintage Grand Prix Association is a 501(c)(3) non-profit that annually raises money for autistic and IDD charities. They have secured a 2023 Corvette Z06 70th Anniversary Coupe through Pittsburgh's North Star Chevrolet, and will give it away to one lucky ticket holder in August 2023. The 70th Anniversary Coupe is outfitted in Carbon Flash Black Metallic Paint with Satin Black Metallic Stripes, Satin Graphite Wheels with a Red Stripe, and 70th Anniversary badging. Also included is the Z07 Performance Package with carbon ceramic brakes, Michelin Cup 2R tires, and Magnetic Selective Ride Control.
Thundering Thursday readers receive 30% Bonus Entries with ticket packages starting at $25. Clicking Here to enter today.
---
This Week's Owners' Corner
Send your story today!

Leonard B.
Purchased in 1967 for $3995, with 8000 miles on it, the car was already on its second engine! This car was my daily driver for many years, wearing out the 425hp/427 cubic inch replacement engine. One day I went to the Service Center in Paramount and saw a L88 short block on the floor. The asking price was $700, so I bought it and had them install it. This engine had 12.5 compression and the pistons rattled brand new because of the clearances. Because I drove the car every day, the engine only lasted 30,000 miles before it needed rings. Today I could kick myself, but I traded the engine to my friend Chuck for a complete 350 installed. I drove the car another 25 years with this setup but not as much as I used to.
When I bought my house the car stayed in the garage most of the time, and every time I went to drive it the brakes had to be bled. In September 1999, I took it to my friend Chuck to get the brakes redone. When I went to pick the car up upon completion my friend Chuck showed me the GM performance catalog. The ZZ502 crate motor really got me excited, so I went home and asked my wife, "Mommy, can I get a new engine for my Corvette?" She said only if I fixed the whole car up. (Bless her heart).
Well many long years later and here it is, finally all prettied up! The ZZ502 has been upgraded to 533 cubic inches with a Scat rotating assembly and SRP pistons. The heads are ported and port matched shaved ten thousands with GM roller rockers, Comp roller lifters and Comp Beehive valve springs breathing through 2⅛ inch headers with 3½ inch collectors. A Comp Cams XR300HR hydraulic steel billet roller with 248/254 duration and 560/580 lift runs the valve train fed by a 950 Holley Ultra HP Carb. Run on the engine dyno it put out 700 hp, 645 ft lb torque. The engine is bolted up to a NHRA approved steel scatter shield housing a Mcleod dual disc clutch connected to a M22 (Rock Crusher) 4 speed pumping into a 12 bolt conversion 4.11 positraction, 1480 axle kit, offset trailing arms, high performance rear spring, and rear camber control rods, all from Tom's differentials.
I took the car out to Fontana drag strip 3-11-2011, ran out of RPM at the end of the strip but still backed up my license plate! The drag strip run was with 502 cubic inches and before the Comp Beehive valve springs were installed. Out of 7 runs best ET was11.741 & best Speed 119.53.
On 4-11-2015 I went back to Fontana with the new engine, in spite of my driving skills the speed shows it may be close to a high 10 second car. Out of 5 runs best ET was 11.644 & best Speed 124.02.
Leonard B.
---
1954 ROADSTER
COMPLETELY RESTORED, IN BEAUTIFUL CONDITION!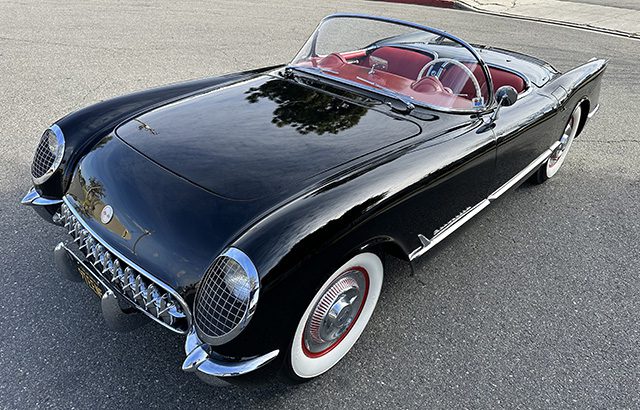 Black w/Red interior, 230/150hp L6 w/Powerglide transmission.
This beautiful example has been completely frame-off restored back in '14 and has recently undergone a mechanical refurbishment. At that time the generator was converted to an alternator, but the correct generator is included. The car is sorted, starts up easily and runs and drives great! A big binder showing the restoration is also included.
BORN IN 54? First kiss in 54? Drafted in 54?
Gave birth in 54? Wed in 54?
Whatever the reason BUY this 54!!!!
---
2020 Convertible with 4k Miles
3LT Trim & Z51 Performance Package

Blade Silver Metallic with Sky Cool Gray Interior.
This awesome example came to us from a gentleman up in Northern California. He only managed to put a bit over 4k miles on it before we were able to pry it away from him!
Options include:
3LT Trim Package.
Magnetic Ride Control.
Z51 Performance Package.
Edge Red painted brake calipers.
Carbon Fiber interior trim Package.
Carbon Flash painted nacelles, roof and Convertible top.
Black painted 19″ front/ 20″ rear Trident aluminum wheels.
Priced for quick sale: $109,900!
---
If you have a Red 1959, we have Cash!

Click Here or email me to talk about your 1959 for sale: Troy@CorvetteMike.Com!
---
CF1 Roadster
Kindigit Designs & Corvette Mike Collaboration
Render your dream car right here!!! ✍️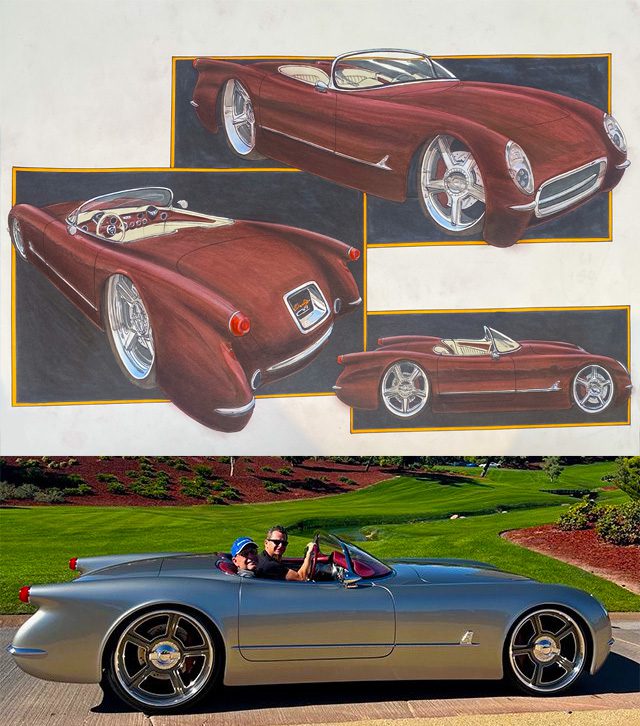 Kindigit Designs of Bitchin Rides and Corvette Mike have collaborated to bring you the Koolest of Bitchin Rides — a series dedicated to the ultimate resto-mods. The last of a true breed of combustion engines purpose-built by Lingenfelter, developing enough horsepower to rip the steel cords right off these Michelins.
This combination of a very limited, select edition of carbon fiber bodies mated to Roadster Shop chassis culminated into something very special. The first, from scratch, retro look 1953 Corvette Roadster with all the trick goodies of modern-day Sportage transportation with a flare to dare you not to stare.
---
1967 Black 435
&
Red 1959 Wanted!
If you have a 1967 Black L71 427/435
and/or
a Red/Red or Red/Black 1959, we have Cash!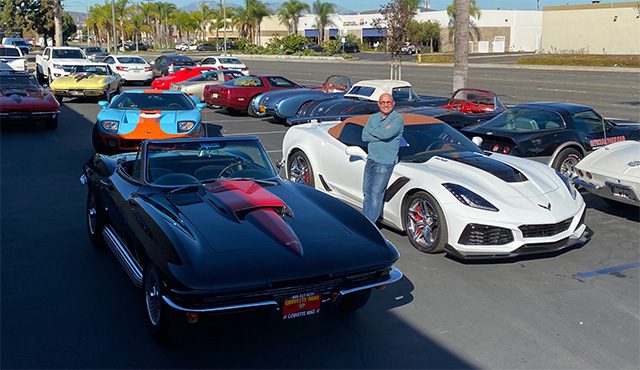 Email me to talk about any cars you want to sell: Troy@CorvetteMike.Com!
---
Comic of the Week