C8 Crosses Flooded Miami Street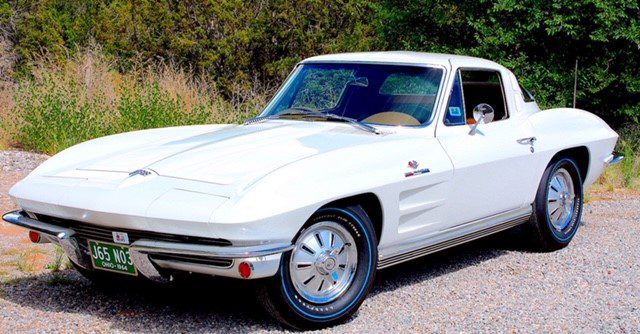 This 1964 Chevrolet Corvette coupe is one of 38 examples produced for the model year optioned with an N03 36.5-gallon fuel tank and was delivered new to Humphrey Central Chevrolet in Cleveland, Ohio. It is finished in Ermine White over TAN LEATHER SEATS and is powered by a CCAS certifed fuel-injected 327ci L84 V8 paired with a four-speed manual transmission. Options include a F40 special suspension, a Positraction rear axle, 15″ steel wheels with spinner-style covers, Goodyear blue-stripe tires, power-assisted metallic brakes, power windows, reverse lamps, concealed headlights, and an AM/FM radio. The car underwent a body-off restoration in 2015 and had been awarded NCRS Top Flight awards in 2017 and 2021. Documentation includes a window sticker, CCAS certificate, NCRS shipping data report, and judging sheets!
Click Here to see and bid on it.
---
wanted and will pay a pirate's ransom
for the right car
Must be a 1963 Red Split Window Coupe
340 HP or better with or without Awards

Got a really really nice 1963 SWC in Red?
We are looking for one and will pay top dollar in cash.
714-630-0700
CorvetteMike@CorvetteMike.Com
---
WE'RE BUYING 2023 Z06 Orders
And Other DREAM CARS!
Friends, as you all know, we don't fuss with auctions or shuffle cars from other dealers. Our cars come from you.
So, if you are thinning out your collection let us know!
Click here to email us about your C8 Z06 order or other cars.
---
---
C8 crosses flooded Miami Street
People in Miami, Florida love to show off their sports cars, and this guy decided to show how well it drives in hood high water; not sure if it has the front lift option.
The first named storm of the year, Alex, set Miami Dade County in its sites and dumped enough rain to flood a lot of low-lying streets and stores. But the residents don't seem to want to change their plans including taking out their sports cars for a spin. Case in point, several videos popped up of a black Corvette C8 driving through flooded streets in what appeared to be above the hood. The C8 survived the flood and drove on down the street.
But oh no, the madness didn't stop there because multiple videos of Floridians doing Florida things in vehicles were uploaded and many insurance companies have received calls about owner cars needing a bit of drying out and repair.
Click on the picture above to watch the C8 cross the road. For a mash-up of videos features a floating Nissan Sentra, a few BMW and Infiniti products stalled or near stalled, and one dead Mercedes-Benz CLS, Click Here.


Subscribe to our Thundering Thursday newsletter to
receive updates on new arrivals and featured cars!
Win Two Great Vettes Plus $40K Cash
in the 2022 Corvette Dream Giveaway!

The 2022 Corvette Dream Giveaway is offering your chance to win a brand new 2022 Corvette Stingray Z51 Coupe and the legendary 1965 Corvette Sting Ray Sport Coupe powered by the one-year 396/425 V8, plus $40,000 cash to pay the winner's taxes! The C8 Corvette is modified by Lingenfelter for 560-hp and it's loaded with the 3LT equipment group, Z51 Performance Package, Mag Ride, Front Lift, and more! The Midyear features a matching numbers 396 V8 and is optioned with power steering, power brakes, transistorized ignition, knock-offs and more!Enter now as Thundering Thursday subscribers will receive DOUBLE ENTRIES
with your donations supporting a number of children and
veteran's charities by Clicking Here!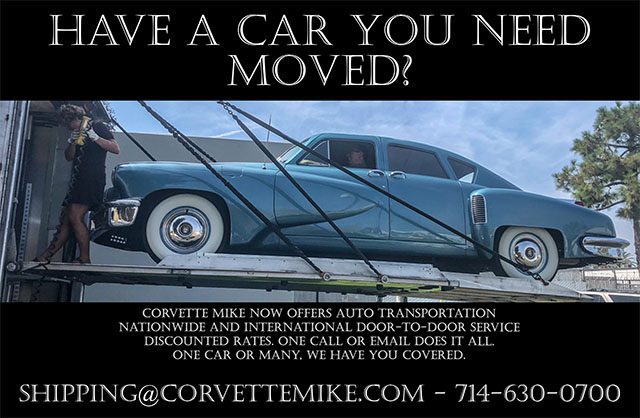 ---
Want to share your story
in our Corvette Owners' Corner
And get a chance to win $50 Or a
limited-edition Corvette Mike Keychain?
Send a short story and picture of your car to Troy@CorvetteMike.Com.
Owners' Corner April $50 drawing
Winner Steve S.

Brandon's 1965 396/425 Corvette
Here's my '65 396/425 roadster that I got in 2016. Traded up from a Silver '64 coupe. Can't beat a C2 Corvette for power and reliability!
My mom had a dark blue '63 327/300 4-speed roadster when I was growing up and it was our only family car. I would sit on the pad between the seats when both my parents were in the car. My mom used to drive the '63 to work in Chicago every day, rain, shine or blizzard. Thank heavens for positraction! As I grew older, a more practical family car was in order so the Vette was sold to make room for a brand new '73 Vega… 😢
Once I had a little extra cash it was time to buy my own C2. The roadster is a delightful car in the California weather. I found the coupe to be a bit stuffy in the summer.
Brandon K.
We buy used cars!
2021 Corvettes wanted!
Top money paid for the right cars.
Submit Your Car today!Cream puff inventory needed!
Lemons need not apply.
---
Just in
1971 Certified #'s matching
factory air conditioning, power steering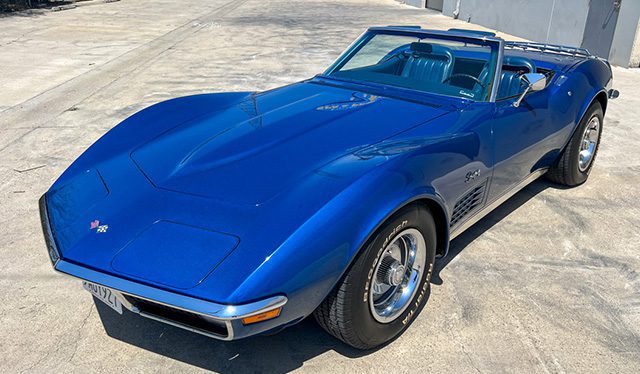 Bridgehampton Blue w/Blue interior, 350/270hp, 4-speed
We've been getting a lot of calls lately for chrome bumper, small block Sharks. Nice examples have been hard to come by. Well, we just got in this very nice, certified by CCAS #'s matching small block, 4-speed Convertible! The rare Bridgehampton Blue exterior nicely complements the sleek lines of the C3 with a White soft top to put a nice lid on things. Inside, there's leather seats in Blue, factory air conditioning, power steering and a nice aftermarket audio unit (the original am/fm radio is included). The car looks good and runs great. Summer is here! Time for some top-down cruising!
Special Summer Pricing $48,900.
---
June Special
1977 L48 350V8, 3-speed auto
three Top Flight Awards

Light Blue w/Blue Interior, L48 350V8, 3-Speed Automatic
This very sharp and very original example was owner by an N.C.R.S. judge who has achieved no less than three Top Flight Awards! The paint is in beautiful condition, the interior is still features the original door panels, dash and console, and the engine runs smooth and strong and shifts crisply. We seldom run across pristine, '77's like this that haven't been "messed" with. It's loaded with options, including air-conditioning, p/b, p/s, p/w, tilt/tele steering column, am/fm radio, those sharp YJ8 aluminum wheels, luggage rack. And it even has two sets of T-tops and original storage bags; one painted and one clear. This is one of the good ones. You could drive it regularly, if you wanted to. And you should!
Would you like to see your prime collector car example featured Here for sale?
Click Here to send an email.
We buy and consign.
---
Auctions



1-Owner 1988 Mercedes-Benz 560SL 47k-Miles
No Reserve: Chevrolet C2 Corvette Chassis
More Coming Soon

2018 Tesla S 100D Coming Soon
More Coming Soon


Comic of the Week
some random thoughts
I was married by a judge. I should have asked for a jury.
Life begins at 40 – but so do fallen arches, rheumatism, faulty eyesight, and the tendency to tell a story to the same person, three or four times.
I've got all the money I'll ever need, if I die by four o'clock.