Celebrating 25 Years of the Pebble Beach Tour d'Elegance 
Experience all the Style, Passion & History on Display
An Unmatched Tradition of Automotive Excellence
YOUR GUIDE TO PEBBLE BEACH AUTOMOTIVE WEEK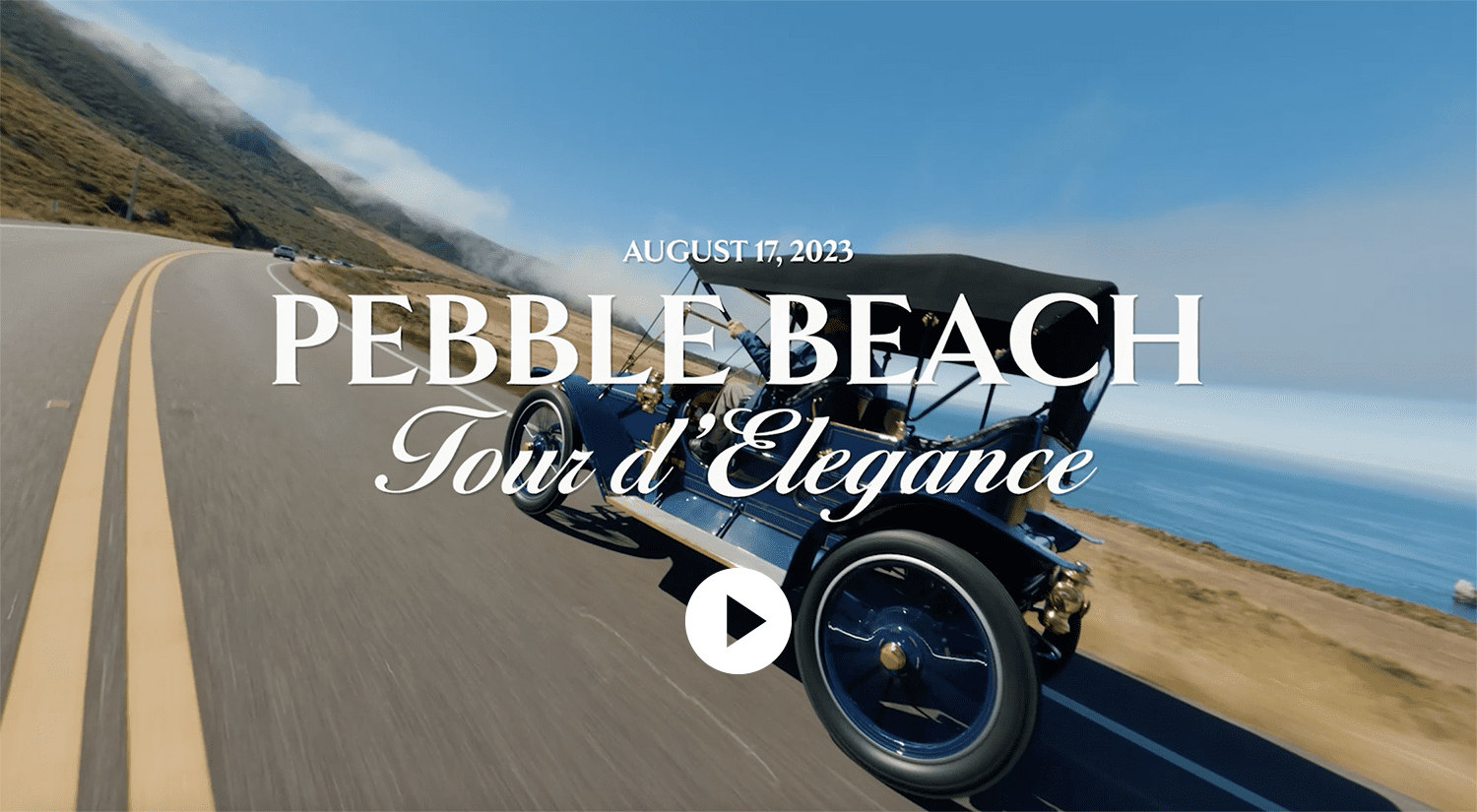 Get Ready to Start Your Engines for Pebble Beach Automotive Week!
PEBBLE BEACH CONCOURS d'ELEGANCE

Each year, the finest collector cars gather on the 18th fairway of Pebble Beach Golf Links to compete for Best of Show — the ultimate award for automobiles. In tandem with the competition between extraordinary historic automobiles, the Concours also serves as host to some of the most anticipated concepts and new car debuts.

CONCOURS STYLE

The Concours show field is stage to more than just the beautiful cars competing for Best of Show against the majestic backdrop of the Pacific Ocean. From period costumes to fancy hats and lipsticks matching automotive details, we love to see our guests dressed up in their very best.

PEBBLE BEACH AUTOMOTIVE WEEK SIGNATURE EVENTS

Start your week at the 25th Tour d'Elegance followed by the Pebble Beach Auctions presented by Gooding & Company. Visit RetroAuto and attend one of the engaging Classic Car Forum sessions, both located in Concours Village. Then join us on August 20 as the world's top collector cars compete for the coveted title of Best of Show at the 72nd Pebble Beach Concours d'Elegance!
---
MOTORTREND'S JAPANESE AUTOMOTIVE INVITATIONAL

MotorTrend's Japanese Automotive Invitational, presented by Infiniti returns to Pebble Beach! Immerse yourself in a stunning celebratory display of Japanese automotive heritage and achievements.

MANUFACTURER DISPLAYS

Open to the public at no cost, visit and explore all the manufacturer displays and their unique visions and go for a ride with one of the official Ride & Drives at Lexus and Mercedes-Benz.
---
Announcing Our 2023 Event Posters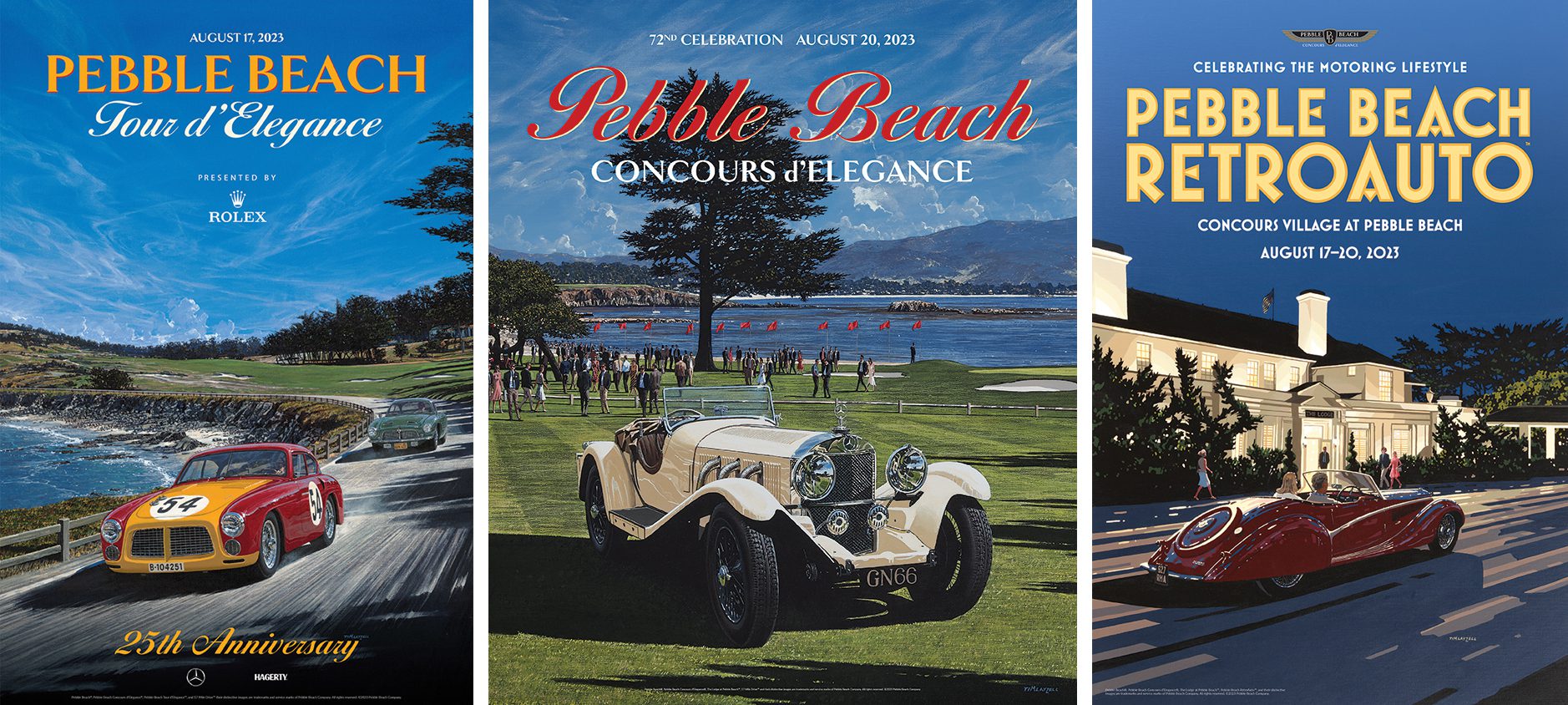 Our posters this year, all painted by artist Tim Layzell, pair the elegance, power and sporting prowess of four great collector cars with the beauty of Pebble Beach.
---
---
PEBBLE BEACH RETROAUTO

An automobilia enthusiast's dream, Pebble Beach RetroAuto hosts a highly curated selection of rare collectibles and memorabilia from the automotive past, to the latest luxury goods and technological tools of the present. You will be amazed at the displays and merchandise our vendors from all over the world have to offer!

ADDITIONAL PANELISTS & FORUM SESSIONS ADDED TO THE LINEUP!

Join Alliant Private Client for a complimentary Forum session An Insurance Market Discussion for Collectors. Adam Carolla, Amanda Stretton, and Danny Sullivan will be talking classic cars with Wayne Carini and Jay Ward, and MotorTrend will be discussing future classics and what will drive collectors crazy in 25 years.
---
---
Experience the excitement of the 72nd Pebble Beach Concours d'Elegance and watch the daylong livestream of this prestigious event. Livestream starts at 1:15pm Pacific Time on Sunday August 20, 2023.