First Dyno Numbers on 2023 Corvette Z06
Year End Special
Free shipping on any car purchased through the end of the year!
* Shipping to a USA address only.
---
2023 Z06 On the Dyno!!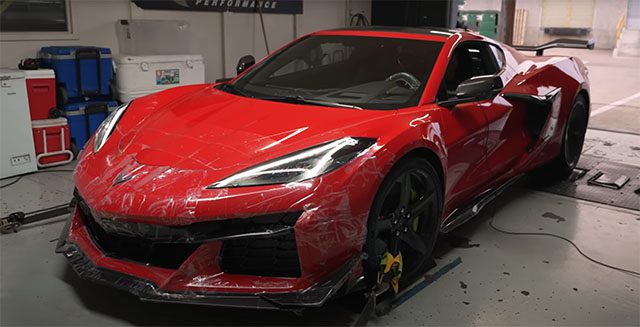 YouTuber Speed Phenom takes his 2023 Z06 to the Dyno!
A YouTuber going by the name Speed Phenom, aka Austin Everett, picked up his 2023 Z06 Coupe at the National Corvette Museum on Tuesday (video Here) and by Thursday he had already driven to Texas and put 500 miles on the odometer. The break-in period completed, it was time to take it to the Dyno and see what numbers it produced.
Once strapped down at Dallas Performance, an experienced exotic car modifier, it was time to see what the 8,600 rpm redline LT6 puts down on the tires. The best of the three runs was 610.83 rwhp and 419.84 lb-ft of torque to the wheels! As the general rule of thumb is that you'll see a loss of 10 to 15 percent from the engine to the wheels, it seems like the factory rating of 670 horsepower and 460 lb-ft of torque, may be a bit underrated.
You can see the dyno run Here.
Special thanks to Corvette Blogger for reporting this news.
---
If you are on the hunt for a
70th Anniversary Stingray,
We know of one available for sale!
---
CF1 Roadster
Kindigit Designs & Corvette Mike Collaboration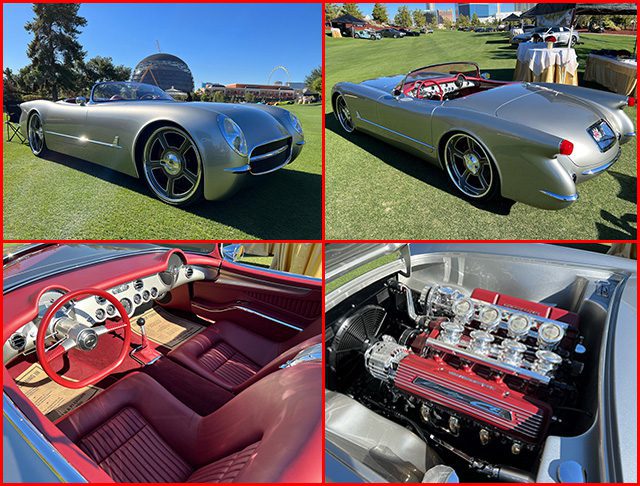 Kindigit Designs of Bitchin Rides and Corvette Mike have collaborated to bring you the Koolest of Bitchin Rides — a series dedicated to the ultimate resto-mods. The last of a true breed of combustion engines purpose-built by Lingenfelter, developing enough horsepower to rip the steel cords right off these Michelins.
This combination of a very limited, select edition of carbon fiber bodies mated to Roadster Shop chassis culminated into something very special. The first, from scratch, retro look 1953 Corvette Roadster with all the trick goodies of modern-day Sportage transportation with a flare to dare you not to stare.
This CF1 is already SOLD, though you can custom build
and reserve yours today! Talk to us, baby!!
Call 714-630-0700 or email: Troy@CorvetteMike.Com
---
sweepstakes coming to an end this Friday!
ENDS FRIDAY! Enter Promo Code CM for Double Chances to Win a
2022 CORVETTE STINGRAY, 1958 Corvette Convertible, or 1970 Chevelle SS.
The Ronald McDonald House of Central Valley will be giving away three special cars and the entry period ends this Friday at 5:00 pm PST. Corvette enthusiasts can choose between a 2022 Corvette Stingray Z51 Coupe, a 1958 Corvette roadster, or a 1970 Chevelle SS. Your entry ticket determines which collector car you want to win. Pick one, or select all three! Your charitable donations help the families of sick children stay at the Ronald McDonald House at no charge while their children receive medical care at the nearby Valley Children's Hospital in Madera, CA.
It's a great cause to support and Thundering Thursday readers can enter PROMO CODE CM to receive double entries! The winners will be announced in December so get your tickets today by Clicking Here!
---
This Weeks Owners' Corner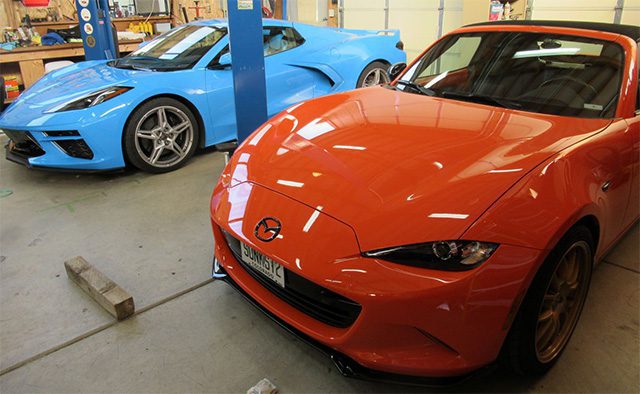 Skip's C8 and Miata

My C8 is closing in on 7k miles and my insurance is limited to 7k miles per year. They renewed my policy on July 1st so I have another year to put on 7k more miles.
I drove it to Salt Lake City to attend the annual Lotus Owners Gathering (LOG 40). I used to have a Caterham 7 and am still an active member of both the national and local Lotus Clubs. When I filled out the registration form and sent in the entry fee I listed my C8 as the car I was bringing. I was told this was the first car not related to Lotus they had allowed to register. I was allowed to park in the reserved for Lotus parking lots with the Lotus and related cars.
I also drove it to Grand Junction for the annual Flyin' Miata Summer Camp. I didn't enter it into the car show but it still got two write in votes. It won a trophy for the Best Car Not A Miata. I also own a Miata and have attended every Summer Camp, the only person to do that other than the owners.
This picture was taken in my personal shop.
Skip
---
Corvette "Bike" Special
(7) Vintage Motorcycle Collection
Restored to Brand New Condition!

Honda and Yamaha motorcycle collection is coming to "Corvette Bike's".
The collection consists of: a 1974 Honda MR 50, 1974 Honda XR 75, 1974 Honda CR 250M, 1974 Yamaha YZ 80, 1974 Yamaha YZ 125, 1974 Yamaha YZ 250, and 1974 Yamaha YZ 360.
To setup an inspection or to make an offer
Call 714-630-0700 or email: Troy@CorvetteMike.Com
---
1962 Roman Red Hardtop Only
Very sharp So. CA. Corvette!
Roman Red w/Red interior, 327/340hp, 4-Speed
This featured car is equipped with a matching #'s 340hp/327 backed by a 4-Speed manual transmission. This was considered by most to be the best combination offered in '62! This particular car was has been in the hands of the previous owner since '83! He drove it regularly and had it fitted with front disc brakes for extra stopping ability. The car was also fitted with a hard top (no soft top was installed) from the factory. It happens to be a great looking and driving '62! You can drive it as much as you please.
---
2023 Cadillac Escalade ESV Premium Luxury
4WD with Only 4 Miles!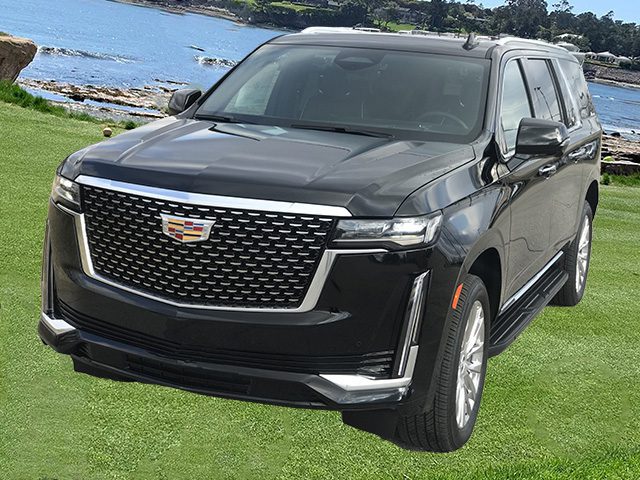 Black Raven with Jet Black Interior
Fully loaded with all the good stuff. You will be the first owner. Very hard to get, this one is available only because the order was canceled last minute. Get it while it is hot.
Includes shipping to California.
Priced at: $119,900
Call 714-630-0700 or email: Troy@CorvetteMike.Com
---
1978 Toyota Land Cruiser FJ40
Only 48k Miles!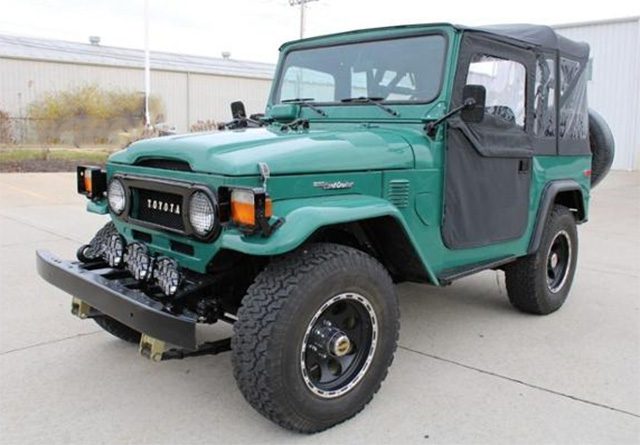 This FJ 40 comes to us from a dealer friend looking to make a year-end sale. Fully restored driver quality and priced to sell.
Priced at: $35,900
Call 714-630-0700 or email: Troy@CorvetteMike.Com
---
1967 Black 435 Wanted!
If you have a Black L71 427/435, we have Cash!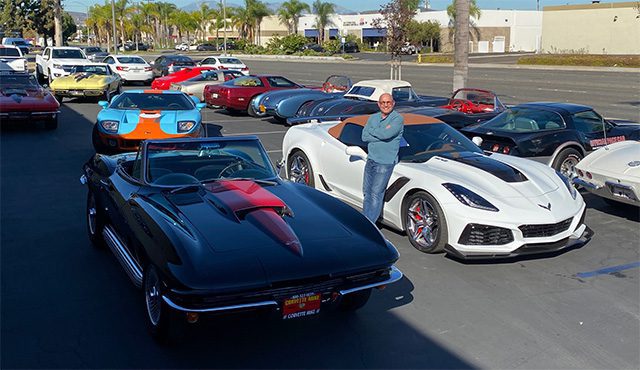 Email me to talk about any cars you want to sell: Troy@CorvetteMike.Com!
---
Would you like to see your prime
collector car featured for sale in
our weekly emailing?
Click Here to send an email!
We buy and consign.
---