Star Cars Coming to the Pebble Beach Auctions Presented by Gooding & Company
Experience all the Style, Passion & History on Display
An Unmatched Tradition of Automotive Excellence
PEBBLE BEACH AUCTIONS PRESENTED BY GOODING & COMPANY
Auctions: Friday, August 18 at 5:00 p.m. & Saturday, August 19 at 11:00 a.m. PDT
Location: Parc du Concours, Corner of Stevenson Drive & Portola Road
Public Preview: Wednesday, August 16 through Saturday, August 19
Auction Catalogues: $120, includes admission for two to the viewing and the auction
General Admission: $50, includes admission for one to the viewing and the auction
Watch the Live Auction Broadcast
---
The Following Star Cars Top The List of Featured Lots to Watch
1962 Ferrari 250 GT SWB Berlinetta
The headlining lot of Gooding & Company's Pebble Beach Auctions is this 1962 Ferrari 250 GT SWB Berlinetta, notable for its remarkably original and well preserved condition. Unlike the vast majority of 250-series Ferraris, this example has never been restored, and remains in good working order. Chassis 3507 GT is finished in Grigio Metallizzatto (Metallic Gray) and retains its original beige leather upholstery, which possesses a fantastic, irreplaceable patina. With just four owners from new, this elegant and enticing SWB Berlinetta has only covered 53,000 km (33,000 miles) in its lifetime, and has never before been offered for public sale.
Photo by Brian Henniker
The precious few Jean Bugatti Roadsters that survive to this day are among the most exclusive road-going Bugattis, far more rare than even the Type 57S Atalante. This Type 55 Roadster, fashioned with Jean Bugatti's famous coachwork, was exhibited on Henri Sagnier's stand at the inaugural Foire d'Alger in Algiers upon completion and has since had an equally exciting and glamorous life. In 1986, it was prepared to join the world-class collection of Ralph Lauren, where it remained until 2003. In recent years, the Type 55 has been inspected by leading historians Pierre-Yves Laugier and Mark Morris, who both confirmed that the Roadster retains its original chassis frame, engine, gearbox, rear end, and coachwork. Its next owner will also be pleased to find that this car has a combined acceptance to two upcoming 1000 Miglia events, the Warm Up USA Event in November 2023, and the world-renowned 1000 Miglia in 2024, subject to registration and entry fee.
---
All images copyright and courtesy of Gooding & Company
Photo by Mathieu Heurtault
1962 Ferrari 400 Superamerica Series I Coupé Aerodinamico
This offering is a marvelous example boasting the most desirable 400 Superamerica specifications, Ferrari Classiche certification, and an exquisite presentation in distinctive original colors. Chassis 3221 SA is one of just 14 examples of the Coupé Aerodinamico built on the original short-wheelbase chassis exclusive to the Series I 400 Superamericas, and is one of just seven with the desirable covered-headlight treatment. It presents beautifully in Bianco (white) over Grigio (gray) Connolly leather.
All images copyright and courtesy of Gooding & Company
Photo by Brian Henniker
1914 Mercer Type 35-J Raceabout
Offered from the Jerry S. Foley III Estate, this Mercer Type 35-J is one of just four known 1914 Raceabouts to survive today. It features a highly sought-after four-speed gearbox, and comes powered by a four-cylinder T-head engine. Appropriately finished in a bright Canary Yellow with black striping and black leather upholstery, it was driven by the legendary Barney Oldfield and Ralph DePalma in period. Its remarkable provenance includes legendary opera singer James Melton, who cherished the Mercer as the centerpiece of his world-famous collection.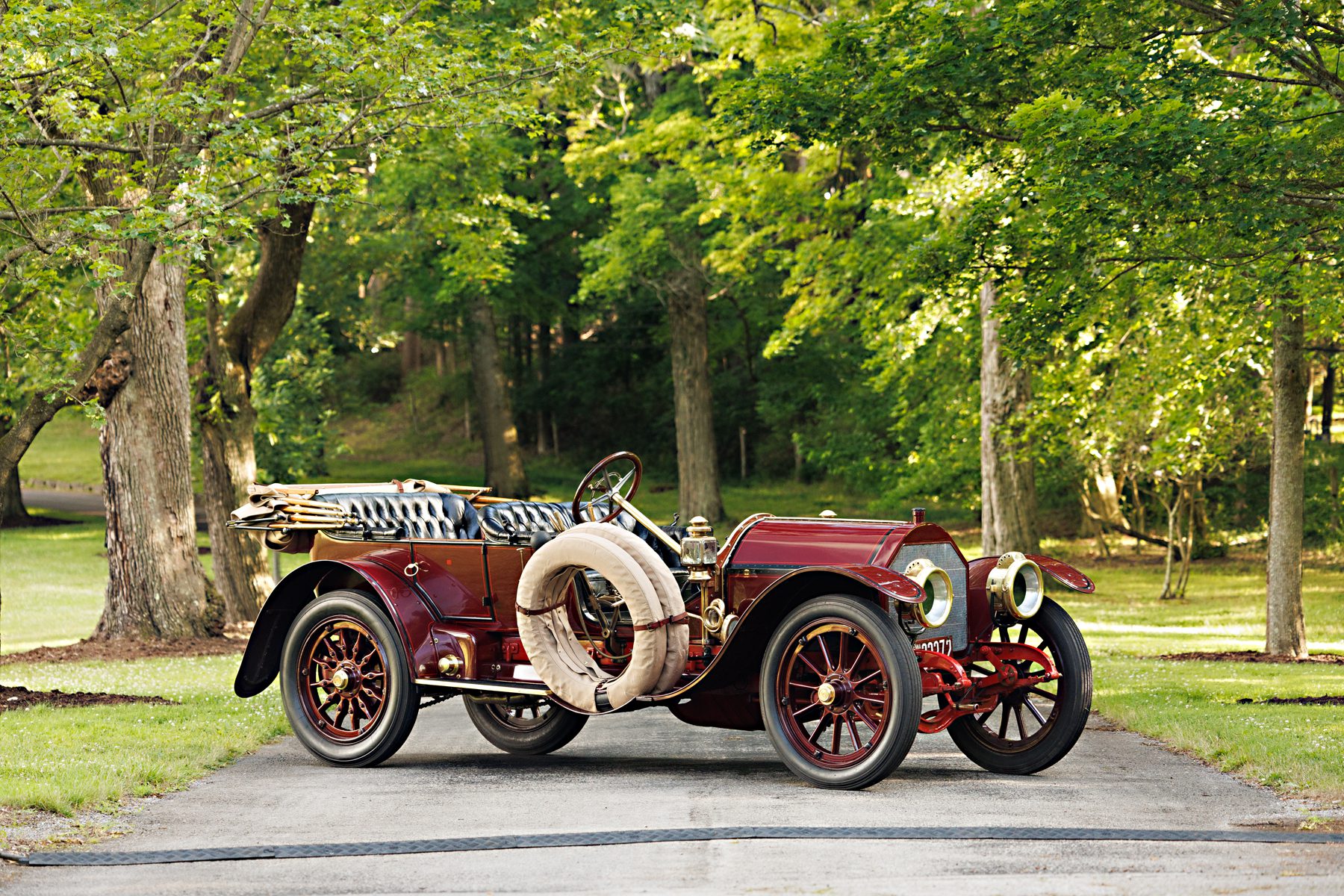 All images copyright and courtesy of Gooding & Company
Photo by Brian Henniker
1912 Simplex 50 HP Toy-Tonneau
Gooding & Company is honored to bring this 1912 Simplex 50 HP Toy-Tonneau to market for the very first time, where it is being offered from 111 years of continuous, single-family ownership. Ordered new for the consignor's great-grandfather, William Penn Snyder Jr., this Simplex has been meticulously maintained and exercised, and has always lived on the family property in Pennsylvania. It was sympathetically restored in the 1950s, and throughout the years, has participated in many Glidden and Friends of Ancient Road Transportation tours. At the 2013 Pebble Beach Concours d'Elegance®, it placed 2nd in Class, and was also awarded the Briggs Cunningham Award for the day.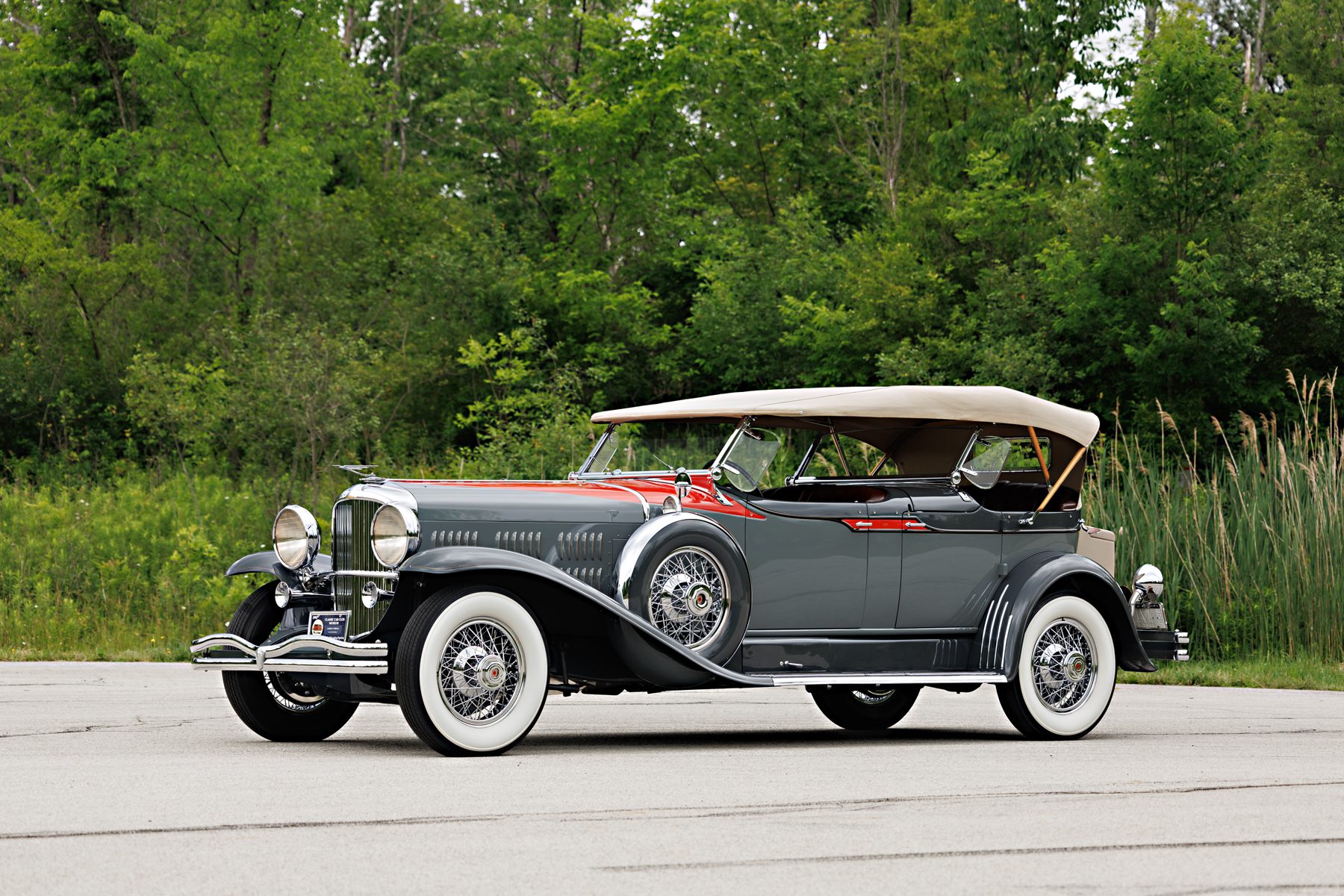 All images copyright and courtesy of Gooding & Company
Photo by Brian Henniker
1930 Duesenberg Model J Dual Cowl 'Barrelside' Phaeton
This one-off Duesenberg Model J Dual Cowl 'Barrelside' Phaeton, chassis no. 2323, engine no. J-318, is the sole example built on the more costly long-wheelbase chassis, bearing a unique hood louver treatment. This Duesenberg has been collector owned for decades, with just three owners since 1954. It joined the consignor's notable Ohio-based collection in 1979, and following an extensive restoration, earned a streak of awards throughout the early 1980s, including AACA Junior and Senior National First Prizes, as well as a perfect 100-point score at the 1982 CCCA Grand Classic. Having recently received a complete engine rebuild by respected marque specialist Straight Eight of Troy, Michigan, this highly regarded Model J is finished in an attractive two-tone gray color scheme with orange highlights and brown leather upholstery.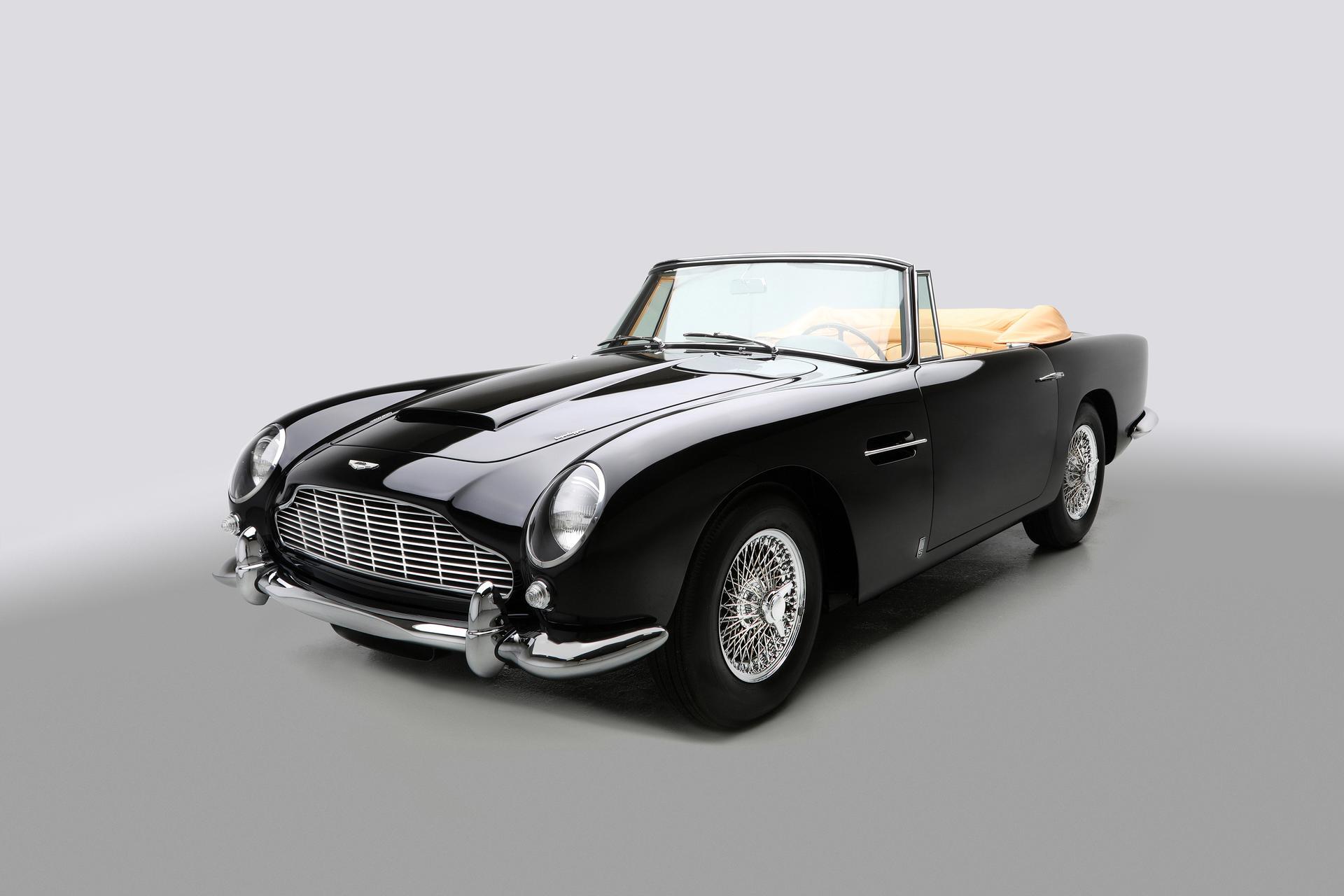 All images copyright and courtesy of Gooding & Company
Photo by Dawn Deppi
1965 Aston Martin DB5 Convertible
This DB5 Convertible is one of just 39 highly coveted left-hand-drive examples, originally delivered to its first owner in New York City. Specified in black with optional air-conditioning, a rare factory option, the car also came with chrome wheels and a Blaupunkt radio with power aerial. This well-documented example has spent the past 50 years under the meticulous care of Aston Martin Owners Club members, and following an exacting restoration by Steel Wings of Pennsylvania in 2020, has earned several major accolades, including a class award at the Pebble Beach Concours d'Elegance®, First in Class at Amelia Island, Founder's Trophy and Class Award at the Audrain Newport Concours, and Most Elegant Car at Radnor Hunt
All images copyright and courtesy of Gooding & Company
Photo by Michael Furman
1936 Hispano-Suiza J12 Cabriolet
One of only ten original-bodied open J12s known to exist, this sporty Hispano-Suiza features desirable Jacques Saoutchik coachwork. Collector owned from the start, the J12 joined the stable of a highly regarded American collector and longtime Pebble Beach Concours d'Elegance® judge in 1985, remaining with him for the next 25 years. During this time, it underwent a complete mechanical rebuild to prepare it for high-speed touring, entrusted to prewar automotive specialist Rick Hamlin. Since then, the J12 has participated in Hispano-Suiza Society Rallies in Spain and California, as well as the Colorado Grand and CCCA CARavans. Acquired by the current owner in 2010, the J12 was thoroughly restored by California's very best experts before being shown at Pebble Beach in 2013, where it won the Alec Ulmann trophy.
All images copyright and courtesy of Gooding & Company
Photo by Mathieu Heurtault
1972 Lamborghini Miura P400 SV
This stunning, exotic Lamborghini Miura P400 SV is finished in a one-off color scheme of Bleu Tahiti (Tahitian Blue) with gold accents over white leather upholstery. A late-production, European-specification example, it was factory-equipped with improved split-sump lubrication and optional Borletti air-conditioning. It remained with its first owner, Domenico Schiavo of Padova, Italy, until 2010, when it joined a private European collection. Between 2011 and 2013, it was extensively restored by Cremonini Carrozzeria of Modena prior to acquisition by the consignor in 2018. Never before offered for sale in the US, and yet to be exhibited on the international concours scene, this Miura comes to market just at the right time as the community celebrates the legendary Italian marque's 60th anniversary.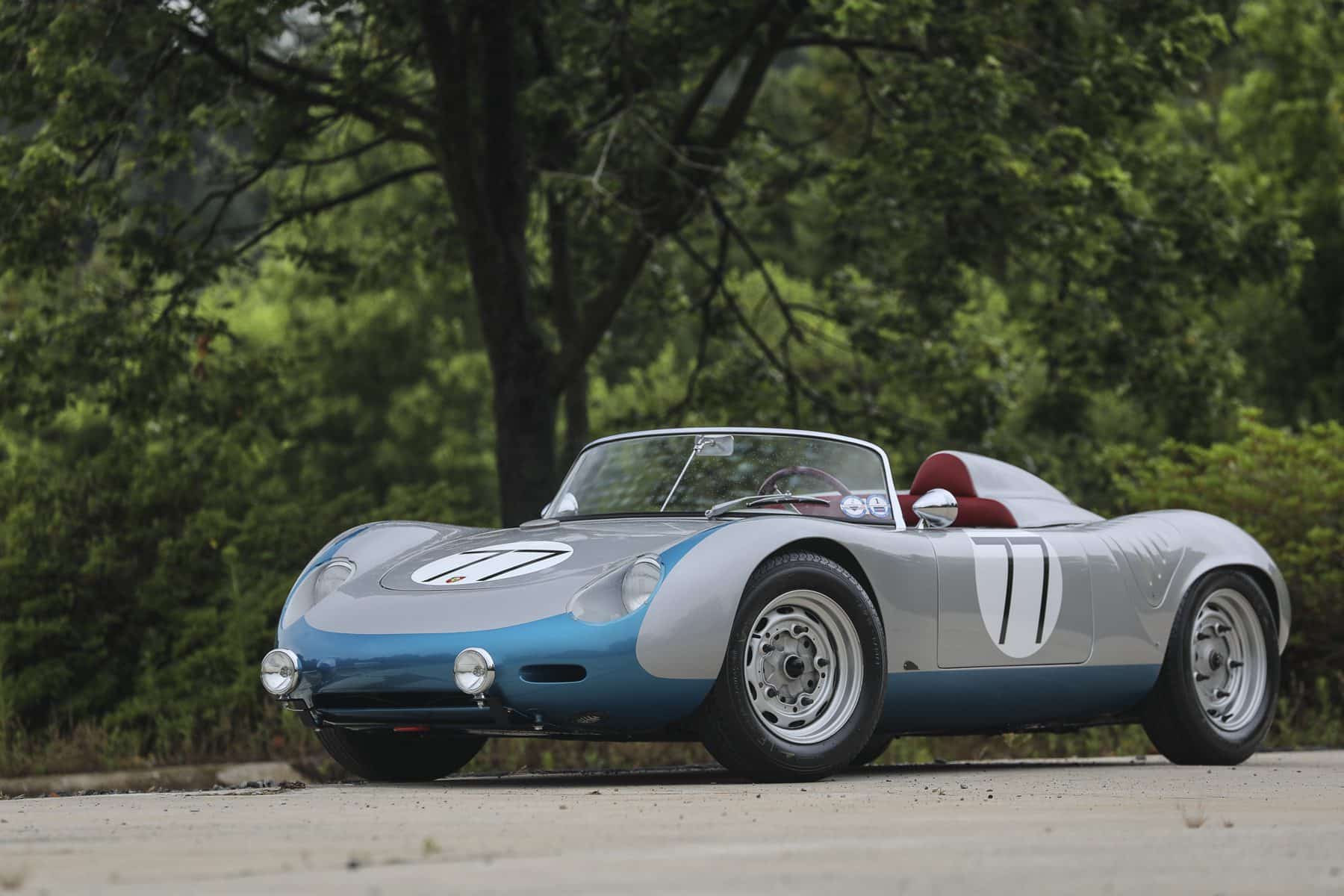 All images copyright and courtesy of Gooding & Company
Photo by Mathieu Heurtault
The leading Porsche of the sale, this RS60 is among the finest, most original Spyders extant, possessing an illustrious period competition history, well-documented provenance, and uncommon originality. Between 1960-1963, it was campaigned by its first owner in 17 US races, achieving 12 class wins in the process. Its provenance consists of only the most reputable collectors, including William E. "Chip" Connor II, Bruce "King Carrera" Jennings, and Dr. William Jackson. More recently, this RS60 was campaigned at Rennsport Reunion IV and Le Mans Classic, a testament to its lasting mechanical fitness. It comes to auction retaining its original Wendler-built aluminum coachwork and factory-delivered engine.
Photo by Brian Henniker
This exceptional Scaglietti-bodied Ferrari 275 GTB is a late-production example configured in the desirable long-nose, torque-tube specification, and comes finished in Verde Medio (Medium Green) over Beige Scuro (Dark Beige) leather upholstery. It has had just two private owners throughout the past five decades, and has remained in Southern California for its entire time in the States. Acquired by the current owner nearly 20 years ago, the 275 GTB has won numerous awards following an exacting restoration, including Platinum Awards at the 2016 FCA National Concours, FCA Pasadena in 2015, Cavallino Classic in 2014, and Concorso Italiano in 2013. It was also awarded the Ferrari Cup at Concours on the Avenue in 2013.