Test Mule C8 Burned To The Ground In Spain
1961 RESTO-MOD CHEVROLET SMALL BLOCK V8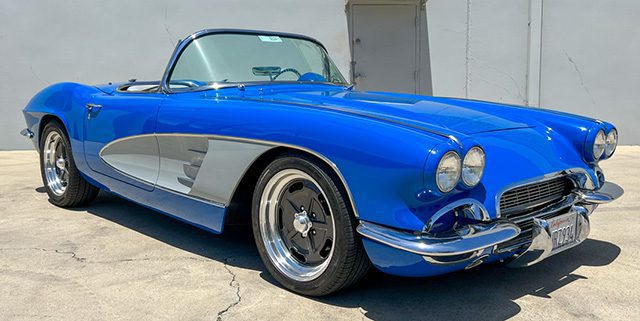 Blue w/Gray interior, 350 small block V8,
automatic transmission
This 1961 Chevrolet Corvette is finished in blue and silver over gray leather and powered by a 350ci V8 paired with a three-speed automatic transmission. Equipment includes 17″ American Racing Wheels, power steering and brakes, a dual exhaust system, a tilt steering column, lap belts, and a Pioneer stereo.
Click here to bid on it, and see more pictures on Bring A Trailer.
---
2023 C8 Z06
Easy to sell – Just Click Here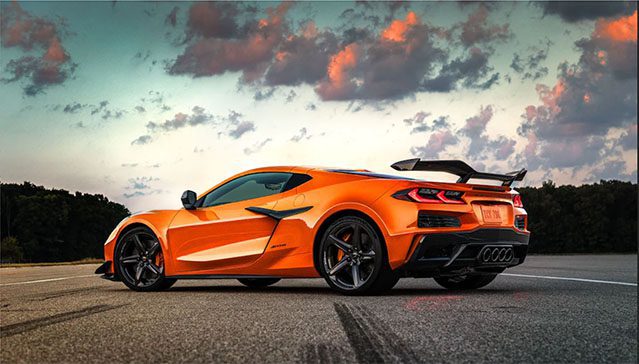 maximize your experience.
Choose the Corvette Mike way to sell.
We Make Selling
Painless • Profitable • Private
No one will know you sold it except your bank balance $
Get on board!!
Sell while they are Red Hot!!
Click Here to let us know about your 2023 Z06
or email us at:
Troy@CorvetteMike.Com
---
hybrid Corvette Burns During
'Thermal Event' While Testing in Spain
Photo Credit: Cochespias Instagram
Cochespias on Instagram caught a C8, which was initially reported to be an E-Ray, as it burned to the ground. It has since been reported by GM Authority that the published photos and video of a C8 Corvette test vehicle undergoing testing in Spain were not an E-Ray hybrid.
According to GM Authority, a Chevrolet spokesperson, Trevor Thompkins, reached out to them to correct the record on some of the rumors that were circulating about the fire. Thompkins says the prototype that burnt down did not have any electrified components in it and is instead a pure internal combustion engine vehicle. Additionally, the automaker notes the test mule is not in a configuration that customers would receive. The test mule was equipped with various diagnostics equipment and other components that would not be found in a production model. So this unfortunate situation is not indicative of the Corvette's fire safety.
---
Win A 70th Anniversary Corvette Z06 Convertible with the Z07 Performance Package

The Detroit Auto Dealers Association Education Foundation is offering the opportunity to win a 70th Anniversary 2023 Corvette Z06 Convertible featuring the Z07 Performance Package. The 2023 Z06 is the hot new Corvette with a 5.5-liter DOHC naturally-aspirated V8 engine capable to revving to 8,600 RPM while the super sticky Michelin R-spec tires can help propel you from 0-60 mph in just 2.6 seconds. The winner of the Z06 Convertible will be announced on September 25th and there is a $75,000 cash option available.
Thundering Thursday readers receive 25% Bonus Entries so
get your tickets today by Clicking Here!
---
This Weeks Owners' Corner
Charlie G's 1963

My Corvette love affair began on a warm afternoon in May of 1967. I was thirteen years old and I was sitting on the front steps of my parents' twin home in northeast Philadelphia. A Sunfire Yellow 1967 Corvette convertible pulled up and parked in front of our home and a guy about eighteen years old got out and walked up the steps to our neighbor's home. He was wearing a white sport coat with a flower in the lapel. He went to the home next door to pick up my neighbor, Helen, to take her to her high school senior prom. As they walked out of her front door and down the steps, I watched him open the door for her and she got into his car wearing a beautiful yellow gown that almost matched the color of her date's Corvette. At that point in time, I was smitten. This guy was the coolest guy I had ever seen and he had the coolest car I had ever seen and he was taking my neighbor to her prom. I was in love….with his car.
Fast forward to 1984…I moved to California to start a roofing business. One day I was working on a job in Westminster and I saw a Light Beige 1979 Corvette coupe sitting on the lot of a used car dealer. That rekindled my love affair and I had to stop and look. A few days later I pulled the trigger and purchased my first Corvette. Life was good. I now owned a Corvette and had "joined the club."
Two years later as I was driving down the 5 freeway in Anaheim near Disneyland, I saw a sign that said "CORVETTES". I had to get off the freeway and find that store. When I did, it was the original Corvette Mike's store on Clementine Street about 2 blocks from Disneyland. As I excitedly walked in the door, there on the floor sat a 1969 Monza Red big block convertible. I thought to myself, "That is a real Corvette with real Corvette power…a far cry from my 1979 coupe." I had to have it!
That was when I met Mike Vietro. Mike was about my age and I quickly learned that he had forgotten more about Corvettes than I knew. He was a walking encyclopedia of all things Corvette! We discussed the 69 convertible and I wound up buying it for $16,500 which was all the money in the world to me at that time. But, now I had a "real" big block Corvette.
With Mike's help and guidance, I was able to take that very nice car and restore it to earn an NCRS Top Flight award in 1988 and a Bloomington Gold award in 1989 scoring 98.7 points.
After taking that car to the pinnacle of Corvette restoration, I became infatuated with the new 1990 ZR-1s with the 375 horsepower LT5 Mercury Marine 32 valve engine. It just so happened that Mike had a red ZR-1 for sale with less than 900 miles on it. I sold the 69 big block for $38,000 and bought the ZR-1!
Since that time I have owned 12 Corvettes in all including another ZR-1, two ZO6s and a new C8 convertible.
Recently, I fulfilled a lifelong dream of owning a 1963 split window coupe. Again, I turned to Mike because I knew that I could trust his guidance to steer me to the real deal. I am now the proud owner of a magnificent Riverside Red split window coupe. Nowadays, I spend a lot of time in my garage or driving down Pacific Coast Highway with a smile on my face! Life is still good and getting better! Thanks Mike!
Enjoy the journey!
Charlie G.
---
July Specials
1967 Marina Blue L71 Convertible
Very rare, Bloomington Survivor!
Marina Blue w/Black Interior, L71 427/435hp 4-Speed Manual
This 1967 Chevrolet Corvette Convertible is powered by a numbers-matching 427ci L71 V8 paired with an M21 four-speed manual transmission and is finished in Marina Blue over Black vinyl upholstery. Additional equipment includes a Black-striped stinger hood, a Black soft top, a push-button radio, a Posi-Traction differential, 15″ rally-style wheels, and three two-barrel carburetors. The car was acquired by the current owner in 1991 and received a Bloomington Gold Survivor award in 2013. It is also a multiple N.C.R.S. Top Flight Award winner!
This C2 convertible is now offered on dealer consignment in California with a Tank Sticker, a Protect-o-Plate, NCRS awards and a document binder full of receipts, correspondence from past owners, photos and much more!
Priced Reduced to sell: $249,900 $239,900
---
1978 Toyota FJ-40 Land Cruiser
Completely restored and highly sought-after!
Green w/Black interior 258/135hp, 4-speed manual transmission 4WD
It's not every day you run across one of these, let alone one that has the quality of restoration that this one has. This one started out as a rust-free example and it still retains all of its original sheet metal. Hundreds of man hours were spent dissembling exterior and interior components. All brake lines and parts on the firewall were removed prior to painting.
Options include power brakes and power steering. New upholstery and headliner. The door panels and front floor mat are original. Do you want one of the best FJ's of this era? This is it!
---
Auctions
1957 Dual-Ghia Convertible
1961 Chevrolet Corvette Resto-Mod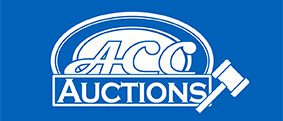 More Coming Soon

More Coming Soon
---
Comic of the Week