Tunners Hack C8 ECM
Tuners that specialize in modifying the engine control module (ECM) to increase the engines power have been able to "Jailbreak" the unit.
Up to this point, tuners had to use what is called a piggyback system. These systems go between the ECM and the sensors on the car to trick it into making the changes the tuner wants. These systems are very tricky and hard to program. If you have followed Emelia Hartford and her world's quickest twin-turbo C8, this is the type of system she used to get the ECM to work with the modifications.
Why did tuners need to Jailbreak the ECM? Well, as cars become more and more controlled by onboard computers, cybersecurity has become more important than ever. We don't want hackers being able to get into your cars computer and apply the gas or brakes for example. So GM designed the ECM to be locked down to unauthorized access. For security reasons GM also locked out long time tuners like Callaway and even Hennessey.
Now that tuners have found a way into the ECM, they can modify almost every aspect of the engine including handling boost pressures if turbos or a supercharger is installed, air/fuel ratio, injector timing, and other parameters. This will open the market to bolt on turbo and supercharger kits over the next year or two.
---
Support Racing History and Win a 2024 Corvette E-Ray Convertible

The International Motor Racing Research Center is a 501(c)(3) charitable organization that collects, shares, and preserves the history of motorsports. To help fulfill that mission, the IMRRC is offering the chance to win a 2024 Corvette E-Ray! The E-Ray is the first electrified Corvette ever that is designed to extend your driving season with its eAWD system and Michelin all season tires. With a 160 hp front drive electric motor powering the front wheels, and the 495 hp LT2 V8 engine covering the back, the E-Ray is the quickest Corvette ever with the ability to sprint 0-60 mph in 2.5 seconds and it can run the quarter mile in 10.5 seconds! When you make a donation to the IMRRC, you are automatically entered to win the 2024 Corvette E-Ray.
Thundering Thursday subscribers get 25% Bonus Entries with ticket packages starting at $25. The drawing will be held in April 2024 so start collecting your tickets today by Clicking Here.
---

Dave L.'s Convertible
I have owned this Vette since 1973 and know the previous 4 owners!
Lots of original stuff, now has 383 w/1960 2×4 WCFB intake carbs, 1960 T10 4 speed, GM 4.56 posi, pretty quick 👍 Fun/fast/loud….. 50 year anniversary this year!
Dave L.
---
1967 L71 CONVERTIBLE
Bloomington Gold Award and rare factory side exhaust!

Tuxedo Black w/Black interior, 427/435hp, 4-speed
The '67 L71 427/435hp Convertible is still considered the "King of the Hill" by most Corvette aficionados. But within this category, there is still a standout. And that would be a '67 L71 Convertible . . . in Tuxedo Black! Black was always the rarest color, but in this configuration, it's REALY RARE!! Not to mention extremely desirable and very collectible!
Built on 9/16/66, this early, matching #'s engine example has been completely and correctly photo-documented frame-off restored is a Bloomington Gold Award winner and is optioned with the very rare factory side exhaust, shoulder harnesses, Bolt on wheels wrapped in Red and is documented with the original Tank Sticker, N.C.R.S. Tank Sticker Validation and Shiping Data Report, old inspection certs dating back to the '70's and more!
Price reduction. Owner says it must go!
---
2022 3LT Z51 CONVERTIBLE
Like new with only 2,500 miles!

Arctic White w/Red/Black interior 376/495hp
This LOADED C8 looks awesome in the classic Corvette colors of White w/Red interior. And it's only got 2,500 miles on the odometer!
Options include:
High Wing Spoiler
Z51 Performance Package
Front Lift Adjustable Height w/Memory
Black painted Trident Aluminum Wheels
Z51 Performance Suspension w/Magnetic Selective Ride Control
Carbon Flash painted Nacelles, Roof Convertible Top
Custom Interior Trim and Seat Combination Override
Sueded Microfiber Wrapped Steering Wheel
Adrenaline Red Custom Seat Stitching
Bright Red painted Brake Calipers
Torch Red Seatbelts
Two-Tone Seats
Battery Protection Package
---
1982 C3 Coupe
Time capsule with under 7k original miles!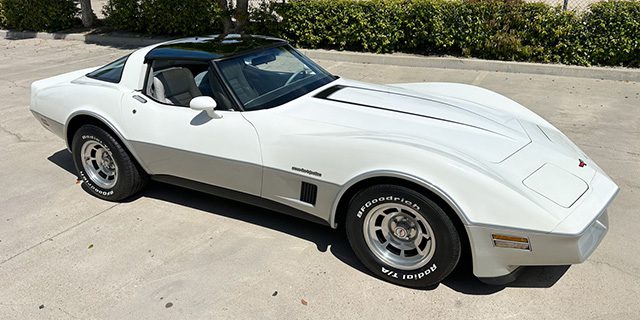 White/Charcoal w/Silver Gray interior, 350/200hp, 4-speed automatic.
We've had many nice '82's come through our showroom over the decades, but this N.C.R.S. Top Flight Award Winner is one of the very nicest! From the great color combination to the very low miles (6,900) to it's amazing originality, this is one '82 that would qualify for "Time Capsule" status! Other than tires, fluids and normal maintenance items, this Shark is just as it left Bowling Green in '82. And it's pristine!
Documentation includes Owner's Kit, Window Sticker and Top Flight Cert and Ribbon.
This is one for the collectors.
Conservatively Priced at: $39,900!
---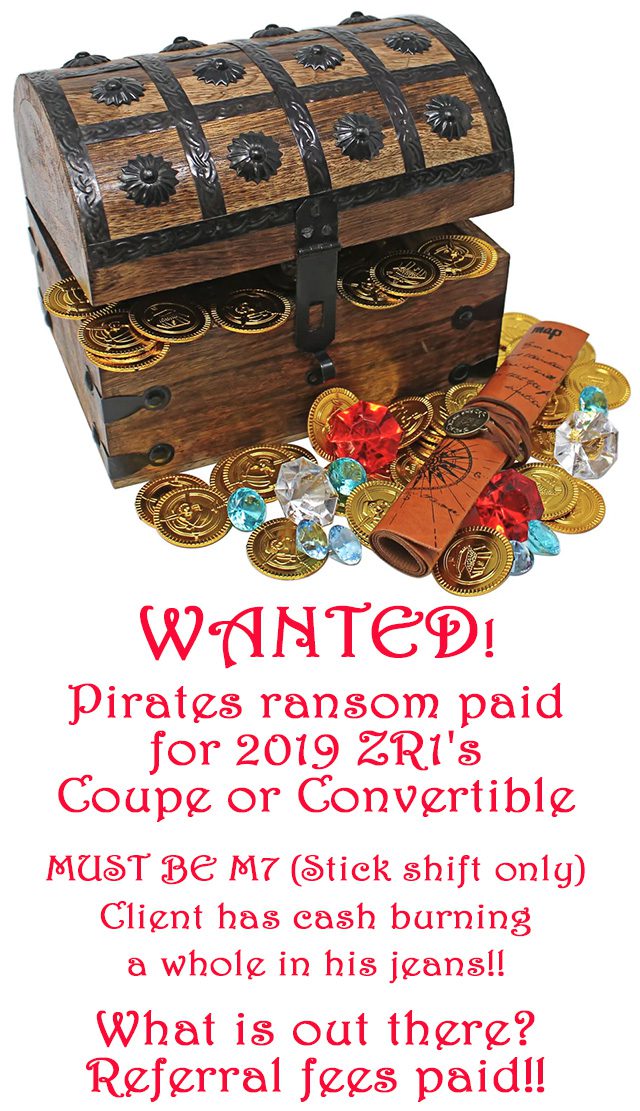 ---
Want some Corvette Mike Swag?
---
Comic of the Week