Wynn Las Vegas Concours – Ron Fellows Performance Driving School

#1 — Kindig CF1!
A Kindigit Designs & Corvette Mike Collaboration
The two year wait is over!
Kindigit Designs of Bitchin Rides and Corvette Mike have collaborated to bring you the Coolest of Bitchin Rides — a series dedicated to the ultimate resto-mods. The last of a true breed of combustion engines purpose-built by Lingenfelter, developing enough horsepower to rip the steel cords right off these Michelins.
This combination of a very limited, select edition of carbon fiber bodies mated to Roadster Shop chassis culminated into something very special. The first, from scratch, retro look 1953 Corvette Roadster with all the trick goodies of modern-day Sportage transportation with a flare to dare you not to stare.
---
#2 — 1967 L89 Coupe
Alloy Heads 1 of 16
restored by Nabers Fame!
How rare is rare? General Motors only built 16 of these fascinating cars in 1967. This car, VIN 122908, was built 32 cars from the end of production on the last day of 1967. It was delivered to Cochran and Celli, California's oldest Chevrolet dealer, on July 28, 1967. It was one of two produced for California with the K19 Smog equipment and sold to its original owner, Donald Stankovsky of Berkeley, CA, now of Houston, Texas. The car found its way through several owners until it arrived at Chris Marcom's Southwest Corvette Collection in Frederick, Oklahoma. Through the guidance of Jim Purvis, the vehicle was purchased by its then current owner in Novem­ber of 1987 and sent to Naber Brothers in Houston for a complete body-off restoration. Later entered Larry M., an astute and well-known car collector who carefully stored it in a climate-controlled car barn with many of its stable mates. After many attempts and nearly 29 years later, a deal was finally struck, and it changed hands again to the Publisher of Thundering Thursday, Corvette Mike Vietro. Also the recent recipient of a Top Flight award two weeks ago in Frisco, Texas, at the NCRS Regional Meet.
At the moment of this writing this California original L89 is heading back to Southern California for the first time since the mid 70's.
---
Ron Fellows Performance Driving School
Pictured: Corvette Mike (front car) Chuck (back car) Chuck did end up with a better time in the end.
If you own a Corvette, are thinking about buying a new Corvette, or just want to have a fun time honing your driving skills, Corvette Mike highly recommends you check out the 2-Day Ron Fellows performance driving school at Spring Mountain.
Corvette Owners School offers a high-performance driving school for Corvette owners and non-owners alike that will meet your needs whether seeking improved driving techniques or simply fulfilling a desire to drive one of the fastest production racecars in the nation, they offer a high-performance driving school to meet your needs. Spring Mountain's professional instructors are second-to-none and will help you test the limits of our cars (and yourself) on an exhilarating, purpose-built road course. You'll squeeze every ounce of performance out of a car in a safe, controlled environment.
The 2-day experience can also be a fun family vacation. While you're on the track, family members can enjoy the amenities of Club Spring Mountain and the new Lake Spring Mountain, which offers activities such as paddleboard rentals and jetpack flights with Jetpack America. This allows both drivers and their families to enjoy the resort-style surroundings.
Overall, it's not just a driving school but an immersive experience for enthusiasts and their families, combining learning and fun in a picturesque setting. It offers the chance to improve driving skills while also providing an opportunity for everyone to enjoy a mini-vacation with various activities and amenities available.
Click Here for more information.
---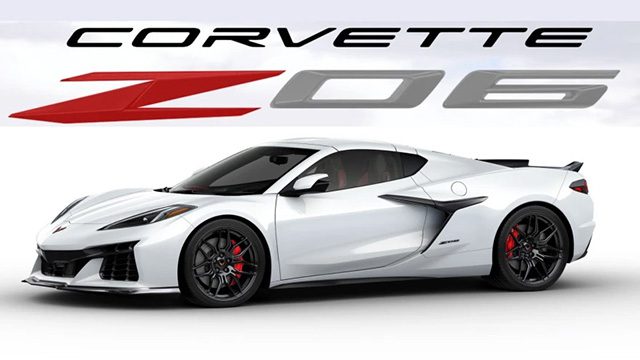 MS Solutions is a 501(c)(3) non-profit organization based in Worcester, MA that provides direct assistance to those diagnosed with Multiple Sclerosis. The organization just wrapped up its 2023 campaign by awarding a 2023 Corvette Stingray Coupe to Meagan Butler on September 10th and now they've launched their 2024 campaign with the grand prize being a 2024 Corvette Z06! This Arctic White Z06 Coupe will feature a 2LZ interior outfitted with Adrenaline Red/Black two-tone Competition seats. The Z06 rides on Gloss Black Spider forged aluminum wheels with Bright Red Brake Calipers and Black Exhaust Tips. Your donation enters you to win this Corvette, but more importantly, those funds are used directly to support those diagnosed with Multiple Sclerosis
Thundering Thursday subscribers get 25% Bonus Entries so get your tickets today by Clicking Here.
---
Want to share your story in our Corvette Owner's Corner and get a chance to win a limited-editionCorvette Mike hat?
Every entry will receive a limited-edition Corvette Mike Keychain.
Send a short story and picture of your car toTroy@CorvetteMike.com.
Want to buy a hat?
We also have shirts for sale!
Click here to see our Apparel Store.
Send your story today and get a keychain!
Skip U C8
My 11th Corvette starting in 1967 with a Marina small block roadster. Ordered the 3LT HTC C8 in July 2019. Took advantage of Spring Mountain 2 day course as I did with my Long Beach red C7 coupe purchase in 2017.
Skip U.
---
Enjoy the Fall Foliage
with a GREAT DEAL!
Black w/Black interior, 346/350hp, 4-spd. automatic
This beautiful Black Coupe has spent its life right here in sunny So. CA. and it's in excellent condition throughout.
Options include:
1SB Preferred Equipment Group
Body Side Mouldings
12 Disc CD Changer
Red Painted Brake Calipers
Magnetic Selective Ride Control
Borla Exhaust System
Lloyds Floor and Cargo Mats
Polished Aluminum Wheels
Cross Drilled Brake Rotors.4-speed
---
Beautiful, frame-off restoration
Seen here is a '65 fuel injected Coupe with a matching #'s engine that really makes quite a first impression. As well as a second one!
The meticulously done frame-off restoration was completed around '20 and still looks ultra fresh! The paint is show-quality and it's equipped with some highly desirable options, such as, side exhaust system, knock off wheels wrapped in Gold line bias ply tires.
---
2013 Camaro LT Hot Wheels
Special Edition Coupe
#252 of 263 LT Coupes!
Kinetic Blue Metallic with Flat Black Stripe.
Under 900 miles on the odometer and the plastic is still on the Custom Leather Seats and floor, Boston Acoustics Stereo, original owner, still on the MSO, Mint Condition.
Priced at $64,900
---
See all the cars we have for sale
by clicking here!
Hi, I am Troy!
Email me to talk about any cars you want to sell:
We love a great car story.
Troy@CorvetteMike.Com!
We buy and consign!

Want Some Corvette Mike Swag?

Comic of the Week
Some Random Thoughts
There is no sunrise so beautiful that it is worth waking me up to see it.
You know you've reached middle age when you're cautioned to slow down by your doctor, instead of by the police.
I'm not insane. My mother had me tested.
Testimonials
5-STAR GOOGLE REVIEW!
I recently had a great experience buying a vintage Corvette from Corvette Mike. I talked with Jeff Romm who was a pleasure to deal with and very professional in handling my transaction from the very start until my car was delivered to me two weeks later. There are so many details to cover in buying a vintage Corvette. Jeff never rushed me while making himself available at all times and followed thru on all of my questions and always responded to my emails or phone calls in a timely manner. I wired the money for payment and the level of service never dropped off in handling the many details regarding title paperwork and arranging for transport etc. I offer a Big thanks to Corvette Mike and Jeff Romm for a job well done.
Adam F.
5-STAR GOOGLE REVIEW!
As an out of state buyer looking for a very specific Corvette I'm pleased to say that Corvette Mike's was everything I could ask for. Troy handled the entire process, promptly and professionally responding to my numerous inquiries. I'm now the happy and satisfied owner of a 1971 Stingray that was delivered and represented exactly what was promised. Thank you Troy and Corvette Mike's!
Jim S.
5-STAR YELP REVIEW!
I wish I had known about Corvette Mike before I took my 69 Corvette elsewhere for repair/restoration work. The other shop did an okay job on the routine stuff, but they were unable to resolve some of the more difficult problems with my car. Then I found out about Corvette Mike. They were able not only to solve those problems, but to correct some issues with regard to the previous repairs that had been made. The people who work at Corvette Mike are cordial, they keep you informed about your vehicle, and they know what they are doing. They are used to dealing with extremely expensive vintage Corvettes, so you can be sure your car is in good hands. They go out of their way to make sure your vehicle is up to spec, and running the way it's supposed to. They don't work cheap, but their prices are reasonable, considering the level of expertise of their staff, and you get what you pay for, so if you are particular about your car, and want the job done right, this is the place to go. For me it's about a one hundred mile round trip, but worth every mile.
Thanks, Corvette Mike!
Rich P.